Tornado® P Series Glazers(TM) Electric Burnishers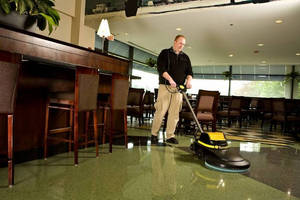 The P Series Glazers from Tornado are designed for operator comfort and unsurpassed burnishing performance.



These machines are expertly balanced for ideal pad-to-floor pressure at sustained RPMs. This means greater efficiency, speed, and overall cost savings.



With a patented design, the P Series Glazers have precision-balanced weight distribution, helping to eliminate the need for a compensating center or front-mount caster.



The Glazers are made of one-piece rotationally molded housing and are designed to absorb the torque and vibration normally felt when operating at high speeds.



For more information, call toll-free: 1.800.VACUUMS or visit www.tornadovac.com.