Tools hone hard-chrome 2-cycle engine bores.
Press Release Summary: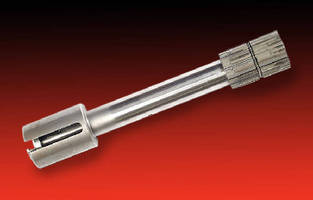 With 0.00040 in. accuracy, TC Tools overcome blind, ported, and tapered bores, as well as hard surface coatings. Units are equipped with metal-bond superabrasives and use customized abrasive mounting that holds up to 12 stone segments of various lengths. Strategic placement of abrasives produces optimal roundness and consistent finish from top to bottom in blind bores. Featuring hardened tool steel bodies and feed wedges, tools are available for bore sizes 1 in. and up.
---
Original Press Release:

New Superabrasive TC Tool Hones Hard-Chrome Two-Cycle Engine Bores with Micron-Level Accuracy for High Performance



Application-specific designs optimize honing stone size and positions for blind, ported bores to produce best piston fit and surface finish for increased power, lower emissions

September 2009 - Sunnen's new TC tool is custom engineered for honing small two-stroke cycle engine cylinders to overcome characteristic production challenges, including blind, ported and tapered bores, and hard surface coatings, such as Nikasil and chrome plating. Proven in production by major OEMs in Sunnen and other manufacturers' machines, the TC tool easily produces fractional micron (0.000040 inch) accuracies and specific surface finishes for increased power production, fuel efficiency, reduced emissions and engine durability. Equipped with metal-bond superabrasives, TC tools use customized abrasive mounting, that holds up to a dozen stone segments of various lengths. Strategic placement of the abrasives produces superior roundness and a consistent finish from top to bottom in blind bores. Each tool is tuned to the application based on length and number of abrasives to allow the tool to bridge across ports, minimizing washout of the port edges to maintain ring seal for increased power and engine life.

Sunnen custom designs each TC tool by mapping the bore, creating a two-dimensional profile to determine optimum length and spacing of abrasives to balance tool wear and produce consistent bore geometry and dimensional accuracy over thousands of parts.

TC tools begin with hardened tool steel bodies and feed wedges and typically last up to five times longer than conventional designs, reducing per-part cost by 30 percent. Custom-engineered TC tools are capable of producing accuracies of 0.6 µm (0.000027 inches) for diameter, roundness, straightness and taper. They are available for bore sizes 25 mm (1 inch) and up.

Honing with the TC tool is an ideal process for small-engine OEMs striving to meet the 2011 EPA standards for two-cycle engines, producing precise bore geometry and surface finish with the consistency needed for mass production. TC tools are also part of Sunnen's high-production honing system for two-cycle engine cylinders that includes the SV-1000 series machines, with options for closed-loop gauge feedback control and robotic loading/unloading from a pallet.

For additional information on Sunnen tools and abrasives, contact: Sunnen Products Company, 7910 Manchester Rd., St. Louis, MO 63143. Tel: 1-800-325-3670; fax: 314-781-2268 or email [email protected].

Sunnen Contact

Mr. Bob Davis

Global Communications Mgr.

Sunnen Products Company

7910 Manchester Ave.

St. Louis, MO 63143

Tel: 314.781.2100

[email protected]