Tooling System enables thermoforming above and below sheet line.
Press Release Summary: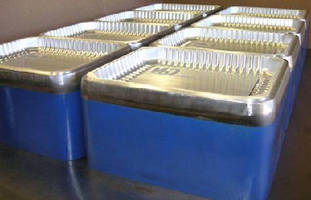 Designed for contact-heat, cut-in-place thermoforming machines, Tooling System runs 15 cycles/min and is suited for reverse lip trays, which can be used for heat sealing and snap-fit applications. System includes custom cut plate with recessed pockets that accommodate protruding raised flange section of mold cavity. Alignment feature keeps cut plate properly positioned with tool, while tool-specific pre-heater helps facilitate even heating and consistent forming.
---
Original Press Release:

GN Thermoforming's Innovative Tooling System for Reverse Lip Trays is an Industry First



DUSSELDORF, Germany, - New innovative tooling technology developed by GN Thermoforming Equipment, based in Chester, Nova Scotia, provides a cost-effective way to thermoform above and below the sheet line on GN's contact-heat thermoformers. The system is ideally suited for reverse lip trays which can be used for heat sealing and snap-fit applications. It is a first for contact-heat, cut-in-place thermoforming machines, according to Jerome Romkey, GN Thermoforming marketing manager. The company made the announcement during K 2010 (Stand 3A36), the 18th International Trade Fair Plastics + Rubber, Oct. 27-Nov. 3, here in Dusseldorf, Germany.

"This is a significant breakthrough because reverse lip trays can now be produced on contact-heat machines instead of competitive systems such as radiant heat machines which are larger, more complicated, and more expensive," said Romkey. The tooling can be used on existing GN contact-heat machines.

The reverse lip tooling system includes a custom cut plate with recessed pockets that accommodate the protruding raised flange section of the mold cavity. This geometric combination results in a lower cut plane which permits the production of a raised flange.

Another unique feature is an alignment system which keeps the cut plate properly positioned with the tool. In addition, a tool-specific pre-heater helps facilitate more even heating and consistent forming.

The reverse lip tooling system also permits common-edge cutting which results in material savings. Scrap can be reduced by reducing or eliminating the amount of web between cavities. The tooling system, which runs 15 cycles/min, is primarily targeted for PET trays.

GN Thermoforming is running the new tooling system at its stand at K 2010 on a GN 3021 DX contact-heat thermoformer with a robotic stacker. The DX line of servo-driven machines provides significantly greater cutting capacity of APET sheet for food packaging applications.

The new tooling system has an estimated cost of $35,000 USD.

About GN Thermoforming Equipment

GN Thermoforming Equipment, based in Chester, Nova Scotia, is a leading manufacturer of servo-driven, roll-fed thermoforming machines for production of food packaging. The company's advanced machines combine the two critical steps of forming and cutting into one operation, resulting in excellent clarity and detail of the finished product. Innovative design combines the best of pressure forming and vacuum forming, resulting in high-output, energy-efficient systems that produce little waste and are simple to use. These machines are compact - typically requiring one-third the floor space of traditional machines - and are ideally suited to produce high-quality food packaging from a range of materials including OPS, PVC, HIPS, PET, and PP. More details are available at www.GNcanada.com

More from Fluid & Gas Flow Equipment