Tooling/Sealing System offers adjustable electronic actuation.
Press Release Summary: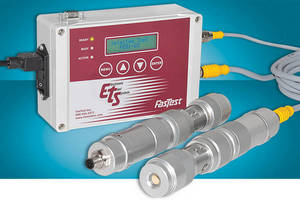 Employing 24 Vdc drive system, Electronic Tooling System (ETS) allows for inside- or outside-part testing of leak sealing integrity. Modular electronic sealing device can operate as stand-alone sealing system or be controlled via I/O or connected via serial, Ethernet, or DeviceNet. By varying target current, device is scalable and provides repeatable sealing force. Sealing tool locks onto media, even under power loss, increasing test safety and reliability.
---
Original Press Release:

New Tooling System from FasTest Delivers Electronic Actuation



FasTest Electronic Tooling System

Adjustable electronic actuation allows for inside- or outside-part testing of leak sealing integrity, as well as dependable use in industrial pick-and-place applications.

Minneapolis, MN-FasTest announces the Electronic Tooling System (ETS), a modular electronic sealing device. By varying the target current, the device is scalable, providing a repeatable sealing force-ranging from a soft touch for delicate parts to a firm grip for work holding. The ETS can operate as a stand-alone sealing system or can be controlled via I/O or connected via serial, Ethernet or DeviceNet, delivering ultimate flexibility and ease of integration.

The ETS provides a clean and reliable alternative to traditional pneumatic sealing devices, simplifying and improving leak tests in a broad range of demanding applications, such as medical, pharmaceutical, food and beverage, and industrial. Robust operation is achieved via a 24 VDC drive system, eliminating contaminants and moisture-ingress common to compressed air systems. The ETS also reduces maintenance time and costs by removing internal seals that wear and fail. Plus, the sealing tool locks onto media, even under power loss, increasing test safety and reliability.

The ETS easily integrates into most leak-test systems for manual, semi or fully automated testing. In addition to the customer-supplied leak test instrument, key components to the ETS include:

Controller: Controls tool operation and sealing force; Allows monitoring and/or changing of tool settings

ETS internal sealing tool: Offers sealing range from 0.310 to1.339 IDs and test pressures from vacuum to 120 psi

ETS external sealing tool: Offers sealing range from 0.030 to 0.827 ODs and test pressures from vacuum to 500 psi

Accessories include a tool cable to power the tool, control (I/O) cable for actuation of the tool with external switch/contacts, and a power cord that provides 120 VAC input to the controller. A customer-supplied test media connection provides the connection between the pressure source and the tool for monitoring test statuses. Additionally, a customer-supplied laptop/PLC controller can be used for monitoring and control, and a serial or Ethernet interface can allow actuation of the tool from the laptop or PLC, as well as communication of the tool status and remote monitoring and control.

Applications:
Delivering ultimate seal control, ease-of-integration, as well as clean and robust operation, the ETS suits a broad range of applications, including:

Female luer connectors: The ETS seals directly over a luer thread, with the same tool capable of sealing all female luer styles. FasTest's proprietary FDA-grade seal material is exceptionally durable.

Plastic molded parts: The ETS provides the equivalent seal force of up to 600 psi pilot pressure for parts that have a flashing/parting line, which require elevated seal force.

Lumens and medical connections: The ETS provides a superior ability to seal without damage or occlusion to connections in numerous designs and sizes. Designs are available to provide internal support, as needed for improved testing.

Automation-pick, test, place: The ETS is easily automated and can serve as a superior end effecter. FasTest's wear-resistant seal will form to grip and seal the part for testing and pick-and-place applications.

For additional information, including contact information for lead reports, contact FasTest's publicist: Jaclyn Larson (Next Communications). Phone: 952-934-8220. Email: jaclynl@nextcom.com.

FasTest is a dedicated manufacturer of productivity and high quality improvement connection tools for pressure, flow and vacuum testing applications. FasTest's complete line of specialty connectors are designed to provide leak-tight, reliable connections for calibration and other industrial manufacturing applications. Custom leak test capabilities are available for unusual or unique requirements.

For additional FasTest products or information, contact:

1-800-444-2373 | www.fastestinc.com | fastsales@fastestinc.com

More from Architectural & Civil Engineering Products