Tool Tracking Service uses RFID technology.
Press Release Summary: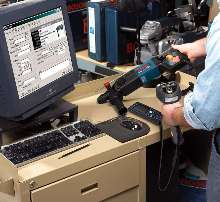 SAFE and SOUND(TM) service provides construction industry with RFID technology for tool management, tracking, and anti-theft applications. It allows companies to purchase power tools that have product and serial number information burned to passive RFID tags secured within them. Service also provides RFID compatible ToolWatch® SE tool tracking software, corresponding mobile scanning hardware, and list of corresponding serial and product numbers for products in inventory.
---
Original Press Release:

Bosch Pioneers RFID Tool Tracking with SAFE & SOUND Service Offering


Visit Bosch Builder Show Booth # W821 or World of Concrete Booth # O21521 for Demos

Mount Prospect, Ill. January 12, 2005 - Today, Bosch Power Tools and Accessories and Bosch Digital Power Tools, divisions of the Robert Bosch Tool Corporation, announced the launch of SAFE & SOUND(TM), the first service to provide the construction industry with the cutting edge RFID (Radio Frequency Identification) technology necessary to gain the operational and cost savings that next generation tool management, tracking and anti-theft applications offer.

Bosch recognizes that RFID tags are the next step in the evolution of tool tagging solutions and compatible with any tool management, tracking and anti-theft application. So, in partnering with the world's top companies - ToolWatch®, Intermec® and the number one electronic article surveillance (EAS) supplier, Bosch formed SAFE & SOUND, the industry's only one-stop, full-service RFID tool tracking and theft deterrence resource.

To date, a small percentage of companies have experienced the financial, operational and anti-theft benefits related to implementing tool tracking systems. But while back end software is perfected, the actual tagging and scanning process still relied on adhesive bar code labels applied to the tool's exterior housing, discouraging many from adopting these applications. But now, Bosch provides the solution.

RFID technology is the long awaited, durable and accurate tool tagging solution. Protected from the elements and secure within any tool, RFID tags, unlike bar code labels, cannot be damaged, rendered unreadable or simply removed. In fact, with RFID, tool crib managers can scan a tool without ever removing it from the plastic box, case or cloth bag.

"By offering construction companies RFID, Bosch opened the door for the industry, as a whole, to refine the technology's application and vast potential," said John Doherty, product manager, Bosch Digital Power Tools. "Today, companies can start by implementing tool tracking systems with confidence, while tomorrow's potential is practically infinite."

For companies interested in RFID and anti-theft, Bosch SAFE & SOUND offers the opportunity to purchase:

New Bosch power tools with product and serial number information already burned to passive RFID tags secured inside the tool.

Provided with a list of corresponding serial and product numbers for current Bosch or other manufacturers' products in inventory, passive RFID tags with the serial and product number burned in for insertion by a qualified service professional.

RFID compatible ToolWatch® SE tool tracking software and corresponding mobile scanning hardware.

An additional level of theft deterrence through EAS security tagging, free of charge. Accompanying every RFID tag, either inserted or supplied, Bosch will include an EAS tag designed to trigger jobsite Acousto-Magnetic(TM) security portals installed at gates and entryways. Bosch also plans to resell portals.

SAFE & SOUND offers more than 60 passive RFID tagged tools, complete with product and serial numbers. These include demolition and breaker hammers, combination hammers, cordless and corded rotary hammers, small and large angle grinders, cutoff machines, cordless and corded construction saws, cordless multi-tool combo kits, corded and cordless reciprocating saws and cordless drill/drivers.

RFID Tool Tracking Systems, such as ToolWatch SE, afford companies significant financial and operational savings in the tens of thousands of dollars with a higher level of control over their tools and equipment, not to mention a competitive advantage. Tool tracking helps companies complete jobs faster and for less money. Tool cribs are managed with pronounced efficiency and tool inventories are where they should be at all times for smoother and quicker jobs. Even theft, often internal, reduces by half. When employees are accountable for their tools through tool tracking systems, tool retention on individual jobsites rises up to 96 percent. ToolWatch SE is available for purchase through SAFE & SOUND.

Jobsite Equipment Theft is grossly out of hand with industry loss estimates up to one billion dollars annually, according to a 2003 National Equipment Register study. Tool tracking and management systems provide one level of security, but a large percentage of theft includes tools disappearing from jobsites at the end of the workday. Recognizing this issue, Bosch plans to resell rugged jobsite Acousto-Magnetic security portals designed for gate entrances and exits and activated by special EAS security tags. Inserted into tools simultaneously with RFID tags, Bosch SAFE & SOUND provides EAS tags free of charge, whether purchasing a new tool or tags for existing inventory.

Similar to retail environments, in practice, the portal sounds an alarm when an EAS tagged tool passes through it, alerting jobsite security and management to a problem. Available with varying coverage areas for both personnel and larger equipment/machinery gates, each portal is designed to attach to any fence or gate system for a secure entry and exit point. Designed to deter the unwanted removal of equipment from the job, companies managing larger jobsites will appreciate the ability to implement this SAFE & SOUND piece of mind.

New RFID and EAS enabled Bosch tools will be available within 60 days as special order through regular distribution outlets for an additional charge of two to three percent. RFID and EAS tag sets for inclusion in existing inventory will be available through Bosch Factory Service Centers in the same time frame at a cost of approximately $5 per set. Bosch Factory Service Centers will also provide RFID and EAS tag set insertion services free of charge for existing Bosch tool inventories. Individual prices for ToolWatch SE and Security Portals vary by customer needs. Those interested in SAFE & SOUND can contact Bosch customer service at 877-BOSCH-99 or visit www.BoschTools.com.

About Bosch and Bosch Digital Power Tools:

In December 2002, Bosch Power Tools and Accessories created the Digital Power Tools line to help field project managers be more efficient in their work, communicate more effectively with subcontractors and customers, and save time and money in the office, tool crib and on the jobsite. With the expansion of this line, Bosch once again shows its commitment to its customers. For more information about Bosch, call toll free at 877-BOSCH-99 (877-267-2499) or visit www.BoschTools.com.

About Bosch North America:

In addition to power tools and accessories, in North America the Bosch Group manufactures and markets automotive original equipment and aftermarket products, industrial automation and mobile products, security technology, packaging equipment and household appliances. Overall, Bosch employs more than 23,300 associates in more than 80 facilities throughout North America and reported sales of $6.6 billion in 2003. Visit www.boschusa.com.

More from Non-Industrial Products