Tool speeds stripping of cable jackets.
Press Release Summary: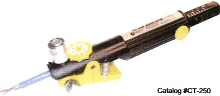 Roto-Spin strips round communication cables including fiber-optic, Category 5 and datacomm. It features swiveling blade to ring and straight-cut cable jackets from 0.16 to 0.60 in. dia. Rotating cam has 16 settings from 0.010 to 0.120 in. to set blade penetration. Adjustable stop with scales in inches and millimeters allows cables to be stripped to same length every time. Clamping vee with 2 positions accepts large and small dia cables.
---
Original Press Release:
Roto-Spin

Stamford, Conn., June 8, 2001

Seatek Co., a leading manufacturer of Revolutionary Design"
labor-saving tools for the electrical trades announces the availability of the Roto-Spin", a new tool that simplifies and speeds stripping of round communication cables including fiber-optic, Category 5, & datacomm. Suitable for stripping electric cable as Catalog #CT-250 well, the lightweight hand tool features unique swiveling blade to ring and straight cut cable jackets from 0.16" to 0.60" diameter in one easy operation.
An innovative rotating cam is used to precisely set blade penetration. An adjustable stop with scales in inches and millimeters allows cables to be stripped to the same length
every time. A clamping vee with two positions accepts large and small diameter cables. Cutting blades are easily replaced with blade storage provided in the cable stop. Once the tool is adjusted, the cable is inserted to the stop. The Roto-Spin(TM) tool is then rotated and pulled. The jacket can be easily peeled off since it was ring cut and slit lengthwise automatically. The blade rotates on itself thanks to a friction free precision ball bearing. Multiple cable cuts can be made without tiring the operator, and the depth of the cut setting is foolproof.

Features:

* Ring & straight cut in one operation from 0.16" (4 mm) to 0.60" (15 mm) diameter
* Rotating cam has 16 settings from 0.010" to 0.120" in increments of 0.005" and 0.010". Metric cam is also available
* Adjustable cable stop with scale in inches and millimeters
* Precision aerospace miniature ball bearing easily swivels the blade between ring and straight cuts
* Two-position quick clamping vee for large and small cables
* Easy blade replacement with blade storage in the cable stop
* Weight 3 oz (30 gm). Length 6" (15 cm)


More from Construction Equipment and Supplies