Tool Set is designed for any threaded insert application.
Press Release Summary: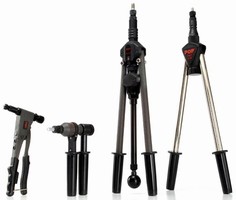 Comprised of 4 tools, POP NUT(TM) Threaded Rivet Nut Manual Setting Line features quick-change mandrel and nosepiece design as well as adjustable mandrel protrusion. Tools include PNT110 Hand Plier Tool, PNT210 Ratchet Tool, PNT310 Lever Tool, and PNT410 Heavy Duty Long Lever Tool. Each offers individual ranges for steel, stainless steel, or aluminum threaded river nuts. Construction is of heavy-duty steel, and PNT310/410 are optimized for pulling force.
---
Original Press Release:
New POP NUT(TM) Manual Rivet Tools Set
The world leader in blind fastening technology has launched a new line of professional manual threaded rivet nut setting tools that deliver market- leading performance at an extremely competitive price. (Shelton, Connecticut) Emhart Teknologies announces the launch of the new: POP NUT(TM) Threaded Rivet Nut Manual Setting Tool Line. The line is designed specifically to provide users with a competitive, cost effective range of precision high performance tools for virtually any threaded insert application. According to the POP NUT(TM) Product Manager, Joaquin Sanchez," The new line of POP NUT(TM) professional tools incorporates the same technology as our new line of POPSet(TM) Rivet Tools and features the same versatility, setting power and affordability. Building on the same technology platform has enabled us to maximize our manufacturing efficiencies, allowing us to deliver the user better performance than other threaded rivet setting tools at a lower cost." The POP NUT(TM) Manual Rivet Tool line consists of four tools: The PNT110 Hand Plier Tool which sets threaded rivet nuts up to ¼" (M6) Steel and 10-24/10-32 (M5) Stainless Steel. A professional tool built of rugged cast aluminum and steel, the PNT110 is supplied with Mandrels and Nosepieces either for Inch (6-32, 8-32, 10-24, 10-32 and ¼-20) or Metric threads (M3, M4, M5 and M6) and is ideal for most applications. The PNT210 Ratchet Tool is fabricated of heavy duty steel and sets Threaded Rivet Nuts up to 3/8-16 (M12) Stainless Steel. It is supplied either with Inch (10-24, 10-32, ¼-20, 5/16-18 and 3/8-16) or with Metric (M6, M8, M10 and M12) Mandrels and Nosepieces and features stroke adjustment with a scale display. The PNT310 Lever Tool provides optimum pulling force and sets threaded rivet nuts up to 5/16-18 (M8) Stainless Steel, 3/8-16 (M10) Steel and ½-13 (M12) Aluminum. This professional standard tool is made of heavy duty steel, is supplied either with Inch (10-24, 10-32, ¼-20, 5/16-18 and 3/8-16) or with Metric (M5, M6, M8, and M10) Mandrels and Nosepieces and features a quick -reverse spin arm for fast withdrawal from set inserts and stroke adjustment with scale display. The PNT410 Heavy Duty Long Lever Tool provides even more pulling force with setting capacity up to 3/8-16 (M10) Stainless Steel and ½-13 (M12) Aluminum and Steel. It is supplied either with Inch (10-24, 10-32, ¼-20, 5/16-18, 3/8-16 and ½-13) or with Metric (M5, M6, M8, M10 and M12) Mandrels and Nosepieces. It is built of heavy duty steel and features a patented cam system that reduces the required force to set inserts and stroke adjustment with scale display. All of the tools feature a quick-change mandrel and nosepiece design as well as adjustable mandrel protrusion to minimize the time required to change the tool over to setting different size and length threaded rivet nuts. Optional individual Nosepieces and Mandrels sizes are available for all four models. Mr. Sanchez noted, "The versatility of the POP NUT(TM) Manual Threaded Rivet Nut Tool Product Line makes these tools perfect for both production line and MRO applications, wherever a user needs a threaded rivet nut." The full range of the new manual POP NUT(TM) tools is available through Emhart Teknologies distributors worldwide. Users should contact their local Emhart Teknologies representative for more information and the name and phone number of their nearest distributor. Mr. Sanchez adds, "The new POP NUT(TM) line is absolutely the best value in manual threaded rivet setting tools today. No other manual rivet tools deliver as much performance at such a competitive price. " About Emhart Fastening Teknologies Headquartered in New Haven, Connecticut, Emhart Teknologies is the global leader in the design and creation of unique assembly technologies, from concept through installation. Emhart's technology-based assembly products and systems are designed to deliver innovative, integrated system solutions to virtually any manufacturing challenge anywhere in the world. From automotive to construction, from computer to appliances, Emhart products and systems are distributed and sold in more than 100 countries. A Black & Decker Company, Emhart has 3,000 employees within 24 operating facilities worldwide. For more information or a product video demonstration please go to www.emhart.com. Cindy Blish Marketing Services Manager Emhart Teknologies (203) 944-1706
More from Architectural & Civil Engineering Products