Tool removes stubborn HVAC/R valve cores.
Press Release Summary: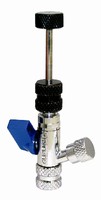 Designed for use with Schrader valves, Model VCR-301 features flexible 5/16 in. long non-slipping Viton® molded sleeve with concave opening that directs core pinhead to center of sleeve. Unit is ergonomically designed with 65° angle takeoff port for refrigerant recovery, dual O-rings, and stainless steel torque driver. Made of corrosion-resistant chrome-plated brass, tool utilizes machined ball valve for ¼-turn open/close functions.
---
Original Press Release:

New HVAC/R Valve Core Remover Tool Is Most Dependable & Lowest Priced in Industry



VCR-301 designed for residential a/c, commercial foodservice equipment, chillers, and industrial refrigeration equipment.

Contact: Linda Appler
Cliplight Mfg. Co.
866-548-3644
hvacr@cliplight.com

Toronto-Cliplight Mfg., a leading HVAC/R tool manufacturer, has introduced the VCR-301, a non-slipping valve core remover (VCR) tool for Schrader valves commonly used in residential air conditioning and commercial/industrial a/c and refrigeration systems.

The VCR-301 was invented by refrigeration engineers that previously found more than 30-percent of all Schrader valve cores were irremovable because existing industry valve core removal tools failed to grip the core pin once is had unscrewed the valve core from the charging port. As a result, the VCR-301 uses a flexible 5/16th-inch-long non-slipping Viton® molded sleeve with an accepting concave opening that directs the core pinhead to the center of the molded sleeve. The ability to remove valve cores is an invaluable service advantage that expedites refrigerant recovery and refrigeration system evacuation times by 50 percent.

In addition to easily removing stubborn valve cores, system oil injection is expedited once the valve core is removed. Most oil injector brands easily screw onto the threaded end of the VCR-301's angle-side port.

Other VCR-301 features include:
o Lowest price of any valve core removal tool in the HVAC/R industry.
o Compatible mate to Cliplight's new TIGAR Mic(TM) deep vacuum gauge.
o Ergonomically designed with a 65-degree-angle takeoff port for fast refrigerant recovery. Providing easy access in tight spaces inside units without restricting flow. Plus, the knurled cross-hatched exterior on the swivel nut and torque driver increases gripping power for non-slip operation.
o No flow restricting internal threads on the discharge end.
o Dual O-ring design for maximum sealing.
o Machined ball valve for easy ¼-turn open/close functions.
o Stainless steel torque driver.
o Corrosion resistant chrome-plated brass cast construction.

For more information on Cliplight, an ISO 9001:2000 certified manufacturer and its HVAC/R tools, leak detection and sealant products, please email hvacr@cliplight.com, visit www.cliplight.com or call 1-866-548-3644.