Tool Presetters have multi-function, digital readouts.
Press Release Summary: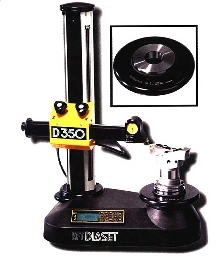 Diaset Digital Presetters incorporate spindle design that allows tools to be placed in spindle without any loss in rotation or accuracy. Spindle runout is 0.0005 in. at 16.0 in. off spindle face. Available in ISO 40 or 50 taper, spindle can be used in any of 3 models: D240, D350, and D352. Version 3.09 control software can hold up to 99 adaptor/tool datum points, each with its own unique name. Positioning accuracy and display resolution is 0.0001 in.
---
Original Press Release:
New Line of KPT/Diaset Digital Tool Presetters Feature New Spindle Design, Enhanced Software
ELK GROVE VILLAGE, IL-A new spindle design and enhanced software improve the latest line of KPT/Diaset high precision digital tool measuring and presetting stations, KPT/Kaiser Precision Tooling, Inc., announced. A new spindle design introduced this year allows heavier tools to be placed in the spindle without any loss in ease of spindle rotation or accuracy. Spindle runout is guaranteed to be 0.0005" at 16.0" off the spindle face. This spindle is available in an ISO 40 or ISO 50 taper and can be used in any of the three main Diaset models: D240 (10" diameter x 13" length), D350 (14" diameter x 17" length), and D352 (14" diameter x 21" length). With the newest version of the control software (Version 3.09), the Diaset's calibration process has been simplified for ease of use. The control can hold up to 99 adaptor/tool datum points, which can be used for either machine offsets or tool setup points. Each datum point can have a unique name, which is always displayed when using that datum point to help eliminate potential errors in datum selection. The positioning accuracy and display resolution of the control software and scales is 0.0001" (0.002mm) in both diameter and height. With over 600 KPT/Diaset units sold in the U.S., the popular KPT/Diaset features a sturdy mineral composite base with an ergonomic 21st century look that gives these basic presetting stations extra stability and resistance to temperature expansion for increased accuracy, while increasing the instrument's tool weight capacity. In addition, a number of important enhancements in the KPT/Diaset series make these compact presetters even more precise and easier to use. Ergonomic improvements to the rapid traverse/fine adjustment locking mechanism make it more user friendly. Other features of the new KPT/Diasets include: A larger, multi-functional, digital readout, and a parallel port for connection to a printer. Single dial indicator with sensitive feeler shaped like a cutting edge. Individual locking mechanisms that make it easy to engage fine adjustment of the Z or X-axis independently. A high precision rotating spindle with a zero point makes it possible to perform calibrations with or without a test bar. The integral printer port connects to standard printers, so that users can print out labels that may be affixed to tools, keeping preset data handy for use at the machine. KPT/Diaset also has optional RS-232 output capability, so that presetting offset data can be integrated into DNC and tool management systems. This basic presetter has proven ideal for small shops that want to increase their machine chip cutting time and reduce job changeover times by presetting the next job while the machine is still running. Large shop applications include use as a machine-side tool presetter for minor replacement of broken tools and worn inserts, reducing the need to go to the central tool crib and increasing CNC machine tool up time. KPT/Diaset can significantly improve productivity by eliminating downtime that occurs when setup is performed on the machine. Instead, setup is completed and offsets established while the machine is making products.
More from Laboratory and Research Supplies and Equipment