Tool Management System expands supply-chain efficiencies.
Press Release Summary: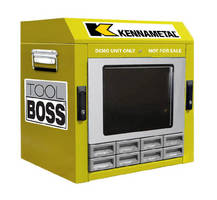 At 100 lb, ToolBOSS™ portable demo unit includes computer with ToolBOSS Inventory Manager software, touchscreen, and 2 pre-configured tray levels. Flex Unit consists of full-size ToolBOSS frame that starts out with 8 drawers, but accommodates up to 26 levels as needed. With modular frame, ToolBOSS Modulo™ can be configured with different drawer and compartment sizes. For large manufacturing customers, ToolBOSS Roto Point™ can handle 234–468 secure locations with removable compartment dividers.
---
Original Press Release:

New Options from Kennametal's ToolBOSS Expand Supply-Chain Efficiencies



New demo unit, Flex Unit, and other options increase capabilities, improve supply-chain efficiency, achieve significant savings



One of the most fundamental keys to running an efficient and cost-effective plant is having the right tool in the right place at the right time. While the cost of a milling or turning insert may range from a few dollars to significant investment, not having that tool available when needed can shut down an entire production line or more, resulting in missed delivery dates and lost profits.



That is why tooling technology leader Kennametal Inc. is announcing new expansions of its ToolBOSS™ tool-management system. "More and more customers are demanding vending solutions for all the classic reasons," says Jay Evans, Kennametal program manager for global supply chain services. "They all want to improve inventory control, downsize centralized tool crib operations, reduce the amount of time it takes for machine operators to locate required tools, and capture, compare, and trend tooling costs associated with the part produced. Such data helps identify problem areas and opportunities for continuous-improvement efforts."



The newest ToolBOSS model is a smaller, portable demo unit that Kennametal is making available to its distribution channel partners. "Distributors are the front line in customizing programs for their customers," Evans says. "The demo unit is a great way for those distributors to demonstrate ToolBOSS advantages right in their own conference rooms."



At only 100lbs (45 kg), the demo unit includes a ToolBOSS computer loaded with the full version of ToolBOSS Inventory Manager software, the standard touch screen, and two pre-configured tray levels. "Width- and depth-wise, the demo unit is a full-size ToolBOSS frame, but the height is only 23 inches (58.4 cm)," Evans says. "This allows our distributor partners to show a variety of tray and drawer sizes -- solutions for large and small shops alike."



More Choices

The Flex Unit is a full-size ToolBOSS frame that starts out with eight drawers to further showcase ToolBOSS advantages. As customer requirements grow, more drawers can be added up to 26 levels to the frame "Trays and drawers can be configured not only for tooling, but also other shop needs such as belts, wheels, gloves, and other equipment," says Evans.



Appropriate to its name, the ToolBOSS Modulo™ unit is a modular ToolBOSS frame that can be configured to provide different drawer and compartment sizes, expanding ToolBOSS for more than just tools, but also anything else companies want to more efficiently control, such as replacement parts, gloves, personal protection equipment, and others.



For larger operations, the Modulo system can manage up to 120 ToolBOSS locations efficiently and securely, providing full identification, usage, and automatic reordering capabilities.



For even larger or more complex manufacturing customers, the ToolBOSS Roto Point™ can handle from 234 to 468 secure locations with new removable compartment dividers, including one variation that can be reconfigured on the customer's site. Multiple compartments can be selected in a single transaction, so large volumes of stock can be managed in a minimal amount of time. As with all ToolBOSS models, the ToolBOSS software provides a complete audit trail, so the who, what, when, where, and how much of a company's key components is available at any time.



Kennametal has implemented thousands of customized supply-chain service programs with manufacturing companies around the world. With automated tool-vending equipment, supply-chain software and peripherals, presetting equipment, tool standardization and consolidation, item planning, ramp up and installation services, turnkey training, and consolidated billing, many of Kennametal's clients have been able to simultaneously downsize centralized tool crib operations and reduce the amount of time it takes for machine operators to locate required tools. The results can be dramatic decreases in inventory, tool budgets, and administrative costs. Add the availability of Kennametal expertise to help consult and recommend standard and custom ToolBOSS solutions and you'll find that implementing best practices and improving supply chain efficiencies can be done with a minimal difficulty, whatever the size and complexity of your organization, Evans says.



Sidebar A: The Technology Deliverables – The ToolBOSS™ System



ToolBOSS™ is Kennametal's secure inventory management solution. The latest 28- level version occupies the same footprint as the former 20-level version and offers the following features:



Reconfigurable

The cabinet can be easily and quickly reconfigured to meet the changing requirements of the user. Single trays or the entire frame can be easily changed in minutes without the use of tools.



Unique manual override facility

In the event that a manual override is needed, the new cabinet ensures 24/7 availability with a unique manual override capability, which is simple and easy to use and requires no disassembly.



Drawer options

There are currently 19 different drawer sizes available to accommodate a large variety of different sizes of items. Additional special sizes are available upon request.



Security

Access to the contents can be restricted by the use of: username, password, biometric identification, card readers, or a combination of these options. The drawer locks cannot be forced open in normal or aggressive use without the assistance of tools. Items are hidden from view and can be randomly distributed around the machine, reducing the risk of the unauthorized removal.



Diagnostics

The machine has a built-in tray diagnostic port, facilitating improved remote system support, diagnosis, and repair.



Efficiency

Multiple drawers can be selected in one transaction, minimizing the time required to manage large volumes of stock.



Future-proof

The cabinet incorporates a USB interface, as well as a DCS expansion port, for use with RFID and other ancillary equipment.



High-speed access

Rapid search and selection of items via the ToolBOSSTM software is further enhanced with a complete LED identification system that guides users directly to the correct drawer.



Traceability

The powerful ToolBOSSTM software provides a complete audit trail, enabling you to track who used a component stored in the system, as well as when, where, and why.



Expandability

The cabinet can be expanded up to 10 units per system providing up to 1121 separate items in 13,440

secure locations.



Sidebar B: The Technology Deliverables – Tool Management Software



Features:

-Multi-location tool stores/ToolBossTM (POI)

-Fast and efficient method for booking tooling items in and out

-Purchase ordering – preferred single supplier via automated electronic mail

-Automated purchase order data transfer to and from SAP via XML file

-Management of tool kits

-Shared tool kit data

-Tool pre-setting

-Gauge management by calibration expiration date

-Security through user-level permissions

-Accurate cost analysis reports



Benefits:

-Accurate and individual control over multiple stores (POI)

-Reduces downtime at stores window/cell

-Automate and streamline the purchasing process

-Integrates into existing ERP systems

-One keystroke issuing of kits

-Instant access to all data

-Can link to existing pre-set machines

-Real time information from all tool vending systems

-Recall control over all traceable items

-Ease of access for all data

-Ability to control individual user rights

-Automatic reporting at the touch of a button



More information is available in Kennametal's latest Supply Chain Services literature or by visiting www.kennametal.com.



Kennametal

Celebrating its 75th year as an industrial technology leader, Kennametal Inc. delivers productivity to customers seeking peak performance in demanding environments. The company provides innovative wear-resistant products and application engineering backed by advanced material science, serving customers in 60 countries across diverse sectors of aerospace, earthworks, energy, industrial production, transportation and infrastructure. With approximately 13,000 employees and nearly $3 billion in sales, the company realizes half of its revenue from outside North America, and 40% globally from innovations introduced in the past five years. Recognized among the "World's Most Ethical Companies" (Ethisphere); "Outstanding Corporate Innovator" (Product Development Management Association); and "America's Safest Companies" (EHS Today) with a focus on 100% safety, Kennametal and its foundation invest in technical education, industrial technologies and material science to deliver the promise of progress and economic prosperity to people everywhere. For more information, visit the company's website at www.kennametal.com.



Kennametal Inc.

1600 Technology Way

PO Box 231

Latrobe, PA 15650-0231

USA

Kathy LINDEN

Phone: 724 539 5698

Fax: 724 539 6766

kathy.linden@kennametal.com



Kennametal Shared Services GmbH

Wehlauer Strasse 73

D-90766 Fuerth

Carsten GROMOLL

Phone: +49 911 9735 557

Fax: +49 911 9735 551

carsten.gromoll@kennametal.com

More from Electrical Equipment & Systems