Tool Holders are compatible with Erowa and 3R.
Press Release Summary: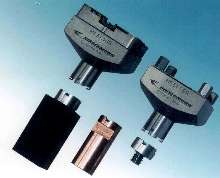 Minifix P-Holders allow variety of ways for small to medium sized electrodes to be held accurately. Four X, Y, and Z references allow 90° indexing of electrodes. Rock Solid Referencing allows ±.0001 in. on/off accuracy. P-Holders are offered in 2.3 and 5.3 in. lengths for each tooling system. Pre-formed copper blanks attach directly to Minifix holders and are offered in variety of sizes, square or round.
---
Original Press Release:
Hirschmann Introduces Compatibility to 3R & Erowa with Minifix
Continuing in their efforts to bring compatibility to the tooling industry, HIRSCHMANN Engineering, USA, Inc, Buffalo Grove, Illinois announces the integration of their Minifix P-Holder system to 3R and Erowa. By using the base components from each company, HIRSCHMANN now makes it possible for 3R and Erowa system users to utilize the Minifix holders without the need for expensive adapters. HIRSCHMANN's Minifix holders allow a variety of ways for small to medium sized electrodes to be held accurately. Four X, Y & Z references allow 90° indexing of the electrodes. "Rock Solid Referencing" (no moving or bending parts) allows +/- .0001" on/off accuracy of the electrode. Pre-formed copper blanks that attach directly to the Minifix holders are available in a variety of sizes, square or round. Graphite electrodes can also be machined to mount directly to the holders or via the H5.51.11 pallet with the use of the H5.51.111 screw. "Ready to Cut" pallet mounted graphite blanks are also available from HIRSCHMANN. The Minifix P-Holders are available in two lengths (approximately 2.3" and 5.3") for each tooling system. Part numbers for Erowa users are H5.51.1-ER & H5.51.2-ER and for 3R users H5.51.1-3R & H5.51.2-3R. Clamping spigots/studs are not included. HIRSCHMANN's product line includes their own integrated robotic loaders, the EROBOT Series, Astrol SA, Automatic Tool Loaders and a complete line of high precision tooling to support EDM and CNC machining. HIRSCHMANN is also the exclusive importer of Ionoplus® synthetic dielectric fluid and other synthetic machining fluids from Oel Held. Other products include heavy-duty metric rod ends, spherical bearings, axial shaft seals, and HIRSCHMANN/Saralle Modular Storage Systems. Additional information about the Minifix P-Holder System is available directly from HIRSCHMANN or on their web site. For this information, contact: HIRSCHMANN Engineering, USA, Inc. 1558 Barclay Blvd., Buffalo Grove, IL 60089. Phone: 847-419-9890. Fax: 847-419-9895. E-mail: info@hirschmannusa.com Web site: www.hirschmannusa.com
More from Fluid & Gas Flow Equipment