Tool Grinding System regrinds punches and dies.
Press Release Summary: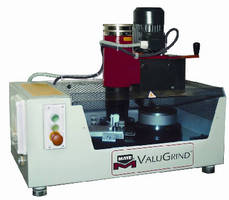 Designed to help maintain optimal tool condition, Mate ValuGrind accommodates thick turret A-E station, MultiTool, and Trumpf-style Size 1 and 2 tooling. Diamond grinding wheel, measuring 165 mm, has minimal exposure and comes with safety-stop button, tinted polycarbonate safety shield, and diffuser-lined tub walls to keep coolant splatter to minimum. Belt-drive grinding system features portable tabletop design with overall size of 820 x 520 x 675 mm.
---
Original Press Release:

Fast, Simple Way for Quality Punch and Die Grinding



The maintenance of punches and dies is one of the most overlooked areas in sheetmetal machinery maintenance.

This is partly because it traditionally has taken a considerable amount of time and effort to grind and sharpen tooling. But just as likely it is purely down to the operators who don't think about this important aspect of maintenance until the worn tool becomes a production setback.

With such strong need for a new and simple solution, Sheetmetal machinery specialist Maxitec has an affordable new system available to ensure all types of tooling is kept in its best operating condition at all times.

The Mate ValuGrind is a tool grinding system that regrinds punches and dies to maintain optimum condition for the highest quality punch press fabrication.

Apart from being compact in size, ValuGrind has a sturdy construction to stop it from moving or tipping when in use.

Its grinding wheel has minimal exposure, it comes with a safety-stop button, tinted polycarbonate safety shield and diffuser-lined tub walls keep coolant splatter to a minimum.

ValuGrind accommodates thick turret A-E station, MultiTool and Trumpf-style Size 1 and 2 tooling, plus it is customised to specific requirements as the user can select the required model based on fixtures, style and electrical wiring needs.

What the machine does is provide a superior grinding finish on ground surface flatness with its belt drive that ensures optimum wheel rpm, a large diamond grinding wheel with inner-cooled cup style design that keeps coolant exactly where it's required to prevent burning or discoloration; plus it has a rigid and robust design for Australian industry.

The reason it can rapidly and accurately grind larger tools is that it comes with a large motor that can accommodate up to thick Turret E-station dies and a large grinding wheel (165mm).

The overall size is 820 mm length, 520mm width and 675 mm high. With simple and safe operation, it provides superior finishes on ground surfaces, has low maintenance and operating costs, and allows easy tool set-up and installation.

There is no need to make any wiring changes before use. Electrical configurations are available to fit local needs in Australia so it is ready to plug in and begin grinding.

Portable tabletop design can be used virtually anywhere, even if space is limited. It is also preconfigured to grind all of Mate's Thick Turret or Trumpf style tools. By simply obtaining other available fixture sets, the ValuGrind is easy to expand tools style grinding capability. All the user simply needs to do is unpack it, add coolant, plug it in and grind.

ValuGrind uses diamond grinding wheels that do not need to be dressed, is manufactured with quality components such as Siemens electric motors, plus it has coolant screens that greatly reduce the amount of grinding swarth and allows for easy cleaning.

For more information, please contact Mr Andrew Bentrup, Maxitec Pty Ltd. Unit 2/29 Mangrove Lane, Taren Pt, NSW 2229.

Ph: (02) 8536 5800, fax: (02) 8536 5840. email: andrew@maxitec.com.au

In New Zealand: Maxitec NZ Ltd

PO Box 7786 Sydenham Christchurch NEW ZEALAND

Ph: (03) 341 1080 fax: (03) 341 1090

Prepared by Val Pavlovic, Omentum Media (Australia), Ph: (02) 9744 7605, (0413) 869 589, email: admin@omentum.com.au

More from Communication Systems & Equipment