Tool Dispenser integrates into users' supply chains.
Press Release Summary: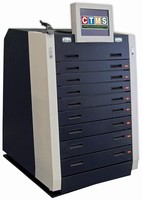 Promoting systems intergration, MATRIX(TM) Series 4 automated tool dispenser offers flexibility of use, connectivity options, and data management. Scalable solution is installed to house inventory and feed back information regarding consumables use and replenishment requirements. Centrally managed, PC-driven cabinet is configured as sloping-fronted chest of 6-9 drawers 50, 75, or 100 mm deep. Any reconfiguration of bins within drawer is automatically recognized.
---
Original Press Release:

Matrix Tool Dispenser Offers New Levels of Integration



Carbide and cutting tool manufacturer, Iscar, has launched a new version of its automated tool dispensing (ATD) system, MATRIX, to improve tooling logistics within manufacturing sites. The world launch was held at the UK subsidiary's headquarters in Birmingham at the end of January 2008 and was attended by delegates from 30 countries.

New features of the Series 4 centre around ease of integration into users' supply chains, for which purpose a generic interface can be provided to ERP (enterprise resource planning) systems as well as a bespoke interface to SAP.

To supplement the standard bar code reader for system access, Iscar now offers to write software to allow customer-specific identification systems to be accommodated, such as radio frequency and magnetic ID cards.

Extra MATRIX TM management software modules improve functionality and operability; and control firmware can now be remotely updated from Iscar's global HQ. In addition, many of the hardware elements of the system have been redesigned to improve reliability and service, and to prevent unauthorised access.

Tool vending systems that automatically reorder stock from suppliers (or simplify manual reordering) are becoming increasingly popular, as 24/7 availability of tooling keeps production running. Such systems also tend to cut consumable costs by reducing the number of tools circulating on the shop floor, as operators have little incentive to hoard them.

One user of an earlier MATRIX version, a French subcontractor specialising in the medical sector, recently reported a 20 per cent reduction in tool consumption and 15 hours less time spent managing stock every month.

The virtues of MATRIX are recognised worldwide by machine tool vendors and academe as well as by manufacturers. Okuma in the US introduces the concept as a service to its customers, mindful that spindle uptime on its machines is dependent, amongst other factors, on prompt supply of tooling. In the Centre of Industrial Productivity at Darmstadt University, Germany, a MATRIX system is installed and forms part of courses in lean manufacturing.

Iscar claims that the latest iteration of its ATD, which was originally designed in the UK, is ahead of others on the market by a considerable margin in terms of flexibility of use, connectivity options and data management.

It says that customers are so impressed with the performance of MATRIX once they see it in action that it is now nearly impossible to sell third-party tool storage cabinets. Uptake of the new MATRIX Series 4 is expected to be brisk, as Iscar supplies it on very favourable financial terms to its customers, preferring to focus on optimising the products that go into it.

Continued development of MATRIX has been driven in part by Iscar's own need to manage the ongoing CTMS (Commodity and Tool Management Services) it provides to OEMs like Desoutter, Hemel Hempstead, and subcontractors such as Roscomac, Worthing.

Their total tooling needs are managed around the clock by Iscar, which installs the ATD to house the inventory and feed back information as to consumables use and replenishment requirements. All of the tooling used by CTMS customers is supplied by Iscar, either from its own product programme, from associate group companies including Taegutec and Ingersoll Cutting Tools, or from third party suppliers.

The advantage of the graphics-based, touch screen PC-driven MATRIX cabinet, which is configured like a sloping-fronted chest of drawers, is that hundreds of different stock items can be stocked and accessed in a compact footprint. Six further cabinets can be connected, according to the size of a user's tooling inventory, and accessed from the same PC.

A workstation running the same touch-screen software and separate management software may be hooked into the Ethernet local area network to track consumption and organise control stock. An SQL server database administers all system data and can be accessed from the management software environment.

There is considerable versatility in the construction of the cabinet, in that between six and nine drawers of 50, 75 or 100 mm depth can be accommodated and each can be configured differently with bins of various sizes up to a maximum of 98 per drawer. Any reconfiguration of bin layout within a drawer is automatically recognised by the control and drawers of similar depth can be swapped around as desired. A new feature is a drawer option for storing large toolholders, power tools and other bulky items.

Software innovations in V4.0 include an expanded menu for shop floor use. There is a more powerful search facility that allows tools to be identified and located according to the machining application rather than just the tool name, group or picture. Tool kitting for specific, perhaps safety-critical jobs is another option, avoiding the possibility of incorrect tool selection, especially if advantage is taken of the new facility to attach on-screen photographs and other documentation to a bin's contents.

New also is the ability to mix unused and reworked cutters of the same type in one bin, reserving space for different tools if the store is becoming full. Used stock is always housed separately and offered first in preference to new stock. However, if fresh tools or inserts are required, say for the start of an unmanned shift, the system can be over-ridden.

At management level, enhancements include more flexibility when selecting automatic reordering schedules, and improved reporting on stock levels. A new feature is the ability to monitor items below their minimum levels, 50 per cent being the default critical level, although this can be varied. Detailed, graphics-based reports in a variety of formats can be created for viewing locally in Excel or a web browser, or for remote interrogation.

Continuing with the theme of upgraded connectivity, larger users with extra cabinets linked to a host MATRIX ATD will see much faster access to cutters and toolholders not in the master unit. This is because, rather than routing signals sequentially from one store to the next, requests are sent directly to a control board in each subsidiary unit via USB 2.0 links.

Troubleshooting from a centralised board behind one of the removable side panels has been simplified with new system interrogation and arrays of LED lights that signify which storage bins are out of action. The mechanical and electro-mechanical elements controlling drawer movement and bin monitoring are similarly easily accessible for servicing.

As a bonus, MATRIX TM software interfaces with, and controls, other types of cabinet such as the Kardex Shuttle and non-automatic warehouse systems. Other locker options are being investigated for linking into the system for housing items even larger than those able to fit into the new, outsize MATRIX bins.

On behalf of: Iscar Tools Ltd, Woodgate Business Park,
Bartley Green, Birmingham, B32 3DE.
Tel: 0121 422 8585. Fax: 0121 423 2789.
E-mail: ian@iscar.co.uk
Web site: www.iscar.co.uk
Contact: Ian Cutler, Marketing Manager.

Issued by: THE RIGHT IMAGE Ltd,
PO Box 42, Twickenham, TW1 1BQ.
Tel: 020 8891 0603.
E-mail: therightimage@aol.com
Contact: Chris Wright.

More from Chemicals & Gases