Tool Boxes, Chests and Cabinets
Tool Chest offers extra storage space for tall tool sets.
Press Release Summary: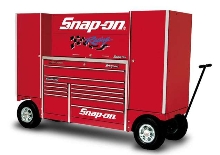 Tool Wagon with Extended Cab System, Model KRLP7022 transports, organizes, and stores tools and equipment. With 90,000+ cu in. of storage space, roll cab and lockers feature 11 drawers. Top-drawer system has two 50 in. wide drawers with depths of 3 and 5 in. Front door rises to reveal stainless steel workbench. Anti-scrub steering system facilitates turning tight corners, allowing 150 in. outside turning radius, while twin cam disc brake system locks wheels in place.
---
Original Press Release:
Snap-on Tool Wagon with Extended Cab System Provides Additional Storage Space for Taller Tool Sets
KENOSHA, Wis., August 27, 2004 - Technicians and racing fans have become accustomed to outfitting their shop with professional equipment that is at home, at the track or in the shop. One of the most valuable pieces in the shop has become the Snap-on® Tool Wagon, an easy, effective way to transport, organize and store tools and equipment. Now, Snap-on Tools Company has introduced the Snap-on Tool Wagon with Extended Cab System, (KRLP7022) which offers nearly twice as much capacity in the unit's top two drawers. The new model features a redesigned top-drawer system, expanding the two 50-inch wide top drawers to five-inch and three-inch depths. This allows taller socket sets to be used, while the three-inch deep drawer is perfect to house an entire collection of wrenches The Snap-on Tool Wagon with Extended Cab System serves as the all-in-one storage solution for tools, equipment and accessories. With more than 90,000 cubic inches of storage space, the roll cab and lockers feature 11 drawers, a variety of shelves, compartments and other storage options. In addition, the Snap-on Tool Wagon with Extended Cab System features extras including non-slip drawer liners, two sliding part trays (one narrow and one wide bank,) tote tray and a sliding work/writing surface. The unit features a sleek design, including a front door that rises to reveal a stainless steel workbench--a perfect work surface for the shop. The opened door is supported by gas springs and a two-point lock-rod system that provides security and prevents the door from slamming closed. Inside the door, a rear riser panel patterned with the Snap-on Slots n' Dots® system allows technicians to customize their workstation with removable accessories such as literature racks, display stands, storage shelves and spray-can holders. The panel is positioned at eye level for quick, at-a-glance identification and convenient access for tools and accessories. Two side lockers each contain drawers and adjustable shelves that can hold larger accessories and items that stand upright. The Snap-on Tool Wagon with Extended Cab System provides a full range of mobility for transporting tools in and out of the shop. An automotive anti-scrub steering system makes turning tight corners easy and increases maneuvering in confined spaces with a 150-inch outside turning radius. A twin cam disc brake system stops the unit from moving by locking the wheels in place. Lowering the smooth-action brake lever allows the wheels to move and the wagon to roll freely, while raising the lever applies the brakes and brings the unit to a controlled halt. The unit also features eight-inch wheels with chrome hub caps, 16- inch pneumatic tires and dress plate fenders similar to the ones used at professional racetracks. A heavy-duty 12 gauge steel platform and seven-gauge steel twin beam supports offer the unit additional strength. The Snap-on Tool Wagon with Extended Cab System is available in a choice of five colors, including Snap-on® Red, Royal Blue, Ultra-Yellow, Deep Cranberry and Gloss Black. The new extended cab tool wagon also includes the familiar Snap-on Racing logo that is proudly worn by several professional racing drivers, teams and cars. Optional accessories include nylon covers, jack stands, aluminum and rubber diamond plate toppers, magnetic cup holders, wrench racks, literature bins and a chrome rear bumper, to give owners the opportunity to create a functional and customized tool storage unit. Automotive technicians and racing fans can find out more about the Snap-on Tool Wagon with Extended Cab System (KRLP7022) by contacting their local Snap-on representative, visiting www.snapon.com or calling toll free 877-SNAPON-2 (877-762-7662). Snap-on Tools Company is a subsidiary of Snap-on Incorporated, a leading global developer, manufacturer and marketer of tool and equipment solutions for professional tool users. Product lines include hand and power tools, diagnostics and shop equipment, tool storage products, diagnostics software and other solutions for the transportation service, industrial, government, education, agricultural, and other commercial applications, including construction and electrical. Products are sold through its franchisee dealer van, distributor channels and company direct sales, including snapon.com. Founded in 1920, Snap-on Tools is a $2+ billion, S&P 500 company headquartered in Kenosha, Wis., and employs approximately 12,700 worldwide.
More from Packaging Products & Equipment