Tonelight Annunciators Provide Audio/Visual Warning Signals
Press Release Summary: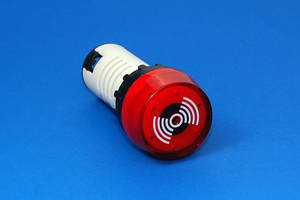 New Tonelight annunciators from Transducers USA emit both audible and LED warning signals. The annunciator is rated at 12 VDC and includes a siren that operates at 85dB. It uses flashing LED lights and an audible siren, which can be emitted simultaneously or seperately, to provide warning signals. It is ideal for environmental conditions with high levels of ambient noise.
---
Original Press Release:
Transducers USA Introduces Expanded line of Tonelight™ Series Warning Indicators
Tonelight annunciators emit both sound and flashing lights, which is especially desirable in environmental conditions with high levels of ambient noise.
In addition to their stainless steel housings and buttons for use in harsh environments, the new Tonelight models from Transducers USA are available with green, yellow, orange, blue, white or red LED lens covers. Two new models are offered:
TRIP-LB100SS-R12 – The voltage rating for this model is 12 VDC. Other models include 24 VDC and 110 VAC to 220 VAC. The siren operates at 85dB @ 10cm. Operating temperature range is -20⁰ C to +55⁰ C. A screw terminal provides for panel mounting. This model is rated IP50 and IK04.
TRIP-LB150SS-R12 – The voltage rating for this model is 12 AC/DC. Current rating is ≤30mA. Its siren also operates at 85dB @10cm. This model is rated IP40.
All Tonelight units provide distinct audio/visual warnings with flashing LED lights and repetitive audio alerts. The sound and light alert signals can be emitted simultaneously or separately. In addition, Tonelight allows the audible alert signal to be delayed, allowing workers to have time to respond to visual alerts before the audible beeping begins.
This feature is ideally suited where excess noise is either undesirable or hard to detect. The Tonelight indicators are ideal for potentially serious events where both audio and visual warnings are needed. Typical applications for Tonelight include: 
Alarms of all types
Low-voltage
Low-pressure
High-radiation
Tank Level
Cycle Status
Dangerous Condition
High-temperature
Liquid Detector
Transducers USA customers are finding the Tonelight warning indicators very helpful in many applications, such as: 
On dashboards of RVs, off- and on-road highway and other vehicular equipment, providing warning when the contents of storage or collection tanks are either full or empty
Industrial machines and factory floor operations
Restaurant kitchens
Mobile and portable applications
For more information on Tonelight Series, please visit: http://www.tusainc.com.
FREE samples of Tonelight devices are available to editors upon request. Please contact Joe Sieracki at 847-956-1920.
About Transducers USA
Transducers USA produces quality audible signal devices at very competitive prices for Original Equipment Manufacturers. The company manufactures a comprehensive line of audio indicators and transducers in piezo and electro-mechanical varieties, including microphones, speakers, and ultrasonic components.
Products are manufactured in ISO-9000 and RoHS certified facilities in Asia. Transducers USA provides customer support and engineering assistance from their local headquarters in Elk Grove Village, IL. Over 1,300 production workers and 100 specialized audio engineers support Transducers USA.
In addition to hundreds of standard audible signal devices, custom products are also available at Transducers USA, based on either a customer's design or one created by Transducers USA engineers. CAD drawings and tooling will be provided at no charge for qualified orders.
Distributors and sale representatives are utilized as a channel to market. Local contacts can be found on http://www.tusainc.com.
More from Machinery & Machining Tools