TOLSA Announces Latest Developments for ADINS® FR Synergists for Wire and Cable at NPE2018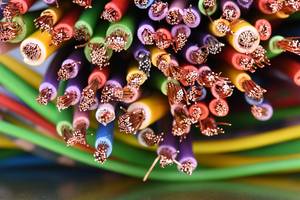 CASPER, Wyo., March 9, 2018 - TOLSA, a leading supplier of special additives for the wire and cable, construction, transport, and electronics industries, will highlight the latest advancements in flame retardant additives for the wire and cable market at the upcoming NPE2018 May 7-11 at the Orlando County Convention Center in Orlando, Fla. (South Hall Level 1 Booth #S152017). The company will present its new technical developments for the ADINS® range of high-performance flame retardant (FR) synergists.
TOLSA's ADINS® range of flame-retardant additives are based on a breakthrough technology using natural silicates, offering tailored performance benefits and making it possible to replace part of the high-loaded flame retardant system allowing better processability.
ADINS® Clay works with standard wire and cable formulations based on halogen and halogen-free solutions. ADINS® flame-retardant synergists have revealed to be very efficient in HFFR systems based on EVA/PE and alumina trihydrate (ATH) and/or magnesium hydroxide (MDH). But among the latest developments, TOLSA has confirmed important advantages when using the ADINS® range of additives in other base polymers including rubbers and silicones, broadening the field of application for these technical solutions.
In wire and cable applications, TOLSA's ADINS® additives have shown significant improvements in fire retardancy in polymer matrixes based on silicones and rubbers (EPDM). In rubber systems, ADINS® Clay 80T additive has shown strong impact in smoke and heat release and has been validated with different customers. ADINS® Clay 80T is currently marketed in rubber matrices for cable applications and also in the transport industry including plastic parts for trains. There are other specific additives within this range, including ADINS® Clay MS, which is based on a modified natural silicate with a low melting point glass.
In silicone matrixes, TOLSA has also made strong inroads with ADINS® Clay 15 additive for wire and cable uses in trains.
"These are important developments that will bring significant performance advantages for halogen and halogen-free flame retardant systems in the wire and cable industry," said Dr. Antonio Esteban, Technical Manager for TOLSA's Specialty Business division.
TOLSA is looking to complement its special additives portfolio for wire and cable by developing additives for chlorinated polyethylene (CPE). Preliminary studies with ADINS® additives have shown good fire retardancy performance and reduced smoke production and ATO content. During 2018, Tolsa will complete its study with formulation readjustments.
Available in the U.S., ADINS® additives are sold as a powder or can also be supplied as a masterbatch.
About TOLSA
TOLSA, based in Madrid, Spain, has one of the most extensive and differentiated range of special clays worldwide, offering a broad range of additives and industrial products that provide high added value and improve the performance and efficiency of materials. The company is also the largest European manufacturer of pet hygiene products, marketed under its own brands and those of large distribution companies. TOLSA has more than 20 mining operations to produce the highest quality sepiolite, bentonite and attapulgite, which generate more than 100 million tons of raw materials. The acquisition of new deposits is a key priority in order to renew reserves as well as to offer each customer other types of raw materials to meet their needs.
TOLSA focuses on intelligent production that is modern, efficient, precise, flexible, punctual, safe, and respectful of the environment. Each process is subjected to stringent quality controls and the company is certified under ISO 9000 and ISO 14000. TOLSA has a production capacity of more than 1 million tons, and its factories are located near mining operations, or in port areas near end users. For more information, visit www.tolsa.com/adins or contact directly industrial@tolsa.com
More from Agricultural & Farming Products