Toilet Retrofit System provides touchless flushing.
Press Release Summary: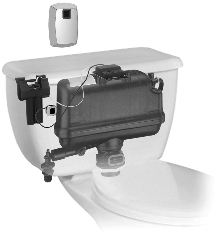 Alkaline battery-operated Intelli-Flush(TM) retrofit for FLUSHMATE® pressure-assist toilet systems enables touchless, sensor operation that eliminates need for physical contact. Retrofit ensures clean, odor-free, and presentable appearance. Motor and cam gear technology actuates flushing mechanism, and IR Object Lock Technology controls flushing. Override button replaces flush handle, and white or chrome sensor trim is available.
---
Original Press Release:

New Intelli-Flush(TM) Retrofit for Sloan FLUSHMATE® Provides Touchless Flushing of the Industry-Leading Pressure-Assist Toilet System


Franklin Park, IL - The Intelli-Flush(tm) retrofit for Sloan FLUSHMATE(r) pressure-assist units enables touchless, sensor operation for increased hygiene in any application and is the only sensor-operated pressure-assist system available.

Intelli-Flush is ideally suited for healthcare facilities, public restrooms or any facility where hygiene and physical limitations are a concern. The touch-free flush feature eliminates the need for physical contact, creating a cleaner environment and eliminating the need to touch the flush handle.

Backed by a 3-year warranty, the alkaline battery-operated Intelli-Flush retrofit ensures FLUSHMATE toilets are always flushed, clean, odor-free and presentable. FLUSHMATE's Intelli-Flush retrofit installation takes about five minutes and uses a reliable motor and proven cam gear technology to actuate the flushing mechanism. Simply install the motor and sensor assembly, then insert the supplied batteries to convert a manual FLUSHMATE to a sensor-operated unit for increased hygiene. FLUSHMATE's Intelli-Flush uses infrared Object Lock Technology to control flushing like no other system.

For user comfort, the Intelli-Flush system includes an override button that replaces the flush handle and the retrofit kit includes all components needed to upgrade any FLUSHMATE with a flush handle. White or Chrome sensor trim is also available for an on-wall or in-wall configuration.

Intelli-Flush is the perfect addition to the innovative FLUSHMATE operating system, which channels energy from the water supply line to complete a flush. As the vessel fills with water, the supply line pressure is used to compress the trapped air, which forces the water into the bowl with a specially designed jet at the entrance of the trapway.

As a supplier to leading toilet manufacturers, FLUSHMATE technology has been embraced in both commercial and residential marketplaces due to its superior performance and ability to conserve more water than any other water closet flushing mechanism. FLUSHMATE's OEM distribution includes American Standard, Capizzi, Corona, Gerber, HCG, Kohler, Mancesa, Mansfield, St. Thomas Creations and Vitromex.

Having received the ASPE Industry Award for Outstanding Service to the Advancement of Plumbing Engineering Technology that best promotes the advancement of the plumbing industry, FLUSHMATE raised the bar higher with the industry's only 4.0-liter (1 gallon) operating system.

FLUSHMATE Operating Systems are manufactured by Sloan FLUSHMATE, producer of pressurized flushing devices. FLUSHMATE is a division of Sloan Valve Company headquartered in Franklin Park, IL. Sloan has been in operation since 1906, and produces plumbing products for commercial, industrial, and institutional markets worldwide.

For more information about Sloan FLUSHMATE, contact Sloan FLUSHMATE Division, 10500 Seymour Avenue, Franklin Park, IL 60131. Phone: 800-580-7141 or visit FLUSHMATE at www.flushmate.com

More from Fluid & Gas Flow Equipment