Toggle Slide Dimmers and Fan Speed Control features toggle on/off switch.
Press Release Summary: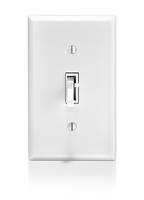 Available in white, ivory and light almond colors, Toggle Slide Dimmers and Fan Speed Control feature classic style. Available in TSL06 and TSM10 models, Toggle Slide Dimmers feature smooth, integrated slide bar for fine adjustment of LED and CFL lighting levels. Designed for single pole and three-way applications, Toggle Slide Quiet Fan Speed Control offers 1.5 amps, three speed fan control and reduces buzzing or humming of ceiling fans.
---
Original Press Release:
Leviton Expands Lighting Control Offering with New Toggle Slide Dimmers and Fan Speed Control
New Toggle Slide Controls feature traditional aesthetic with contemporary functionality
Leviton expanded its lighting controls product line with the introduction of Toggle Slide Controls, comprised of two new Toggle Slide Dimmers and a Toggle Slide Quiet Fan Speed Control. Both of the new Toggle Slide Dimmers, the TSL06 and TSM10, provide integrated, linear, full-range slide control for easy, precise dimming of incandescent, dimmable LED, dimmable CFL and halogen loads, and the TSM10 dimmer is also compatible with magnetic low voltage loads. The new Toggle Slide Quiet Fan Speed Control offers 1.5 amps of quiet, three-speed fan control. Designed for both single pole and three-way applications when used with a three-way switch, the new Toggle Slide Controls feature a classic style to complement the décor of traditional homes while offering upgraded functionality to support today's bulb technology.
The Toggle Slide Dimmers feature a toggle switch that provides preset ON/OFF switching and a smooth, integrated slide bar for fine adjustment of lighting levels. Dimming functionality is further refined with a microprocessor control to fine-tune LEDs and CFLs for optimal performance. Toggle Slide Dimmers are slim and compact by design, fit easily in a standard wallbox and include a built-in soft green LED locator light within the toggle switch for convenience in locating the device in a darkened space. Users may disable the locator light based upon personal preference.
The Toggle Slide Quiet Fan Speed Control is designed similarly to the dimmer, combining a traditional toggle ON/OFF switch with an integrated slide bar for the selection of low, medium or high fan speeds. The device is designed to reduce the buzzing or humming often associated with ceiling fans through the use of capacitive circuitry, making it ideal for areas where ceiling fan noise could become distracting, such as libraries, bedrooms, home offices or sunrooms.
"Our customers are embracing the latest bulb technology, yet simultaneously wish to preserve the traditional character of their home," said Randall Rosenbaum, product manager, Leviton Residential Lighting Controls. "We're pleased to expand our lighting control product offering with the Toggle Slide Controls, which combine contemporary functionality and a classic design to help meet both of these needs."
Leviton Toggle Slide Controls are certified to the applicable U.S. and Canadian Standards and come with a five-year limited product warranty. Both the dimmers and fan speed control come in white, ivory and light almond, and they are now available through Leviton's network of retail, online and electrical distribution channels, including their online store http://store.leviton.com/. For additional information on Toggle Slide Controls, visit www.leviton.com.
About Leviton Residential
Leviton residential products are the brand most preferred by builders and electrical contractors. Leviton's award winning lighting controls and wiring devices help electrical industry professionals and homeowners create smart and safe living environments that deliver energy savings, convenience and reliability. Learn more at www.leviton.com/residential.
About Leviton
Leviton is the smart choice, providing the most comprehensive range of solutions to meet the needs of today's residential, commercial and industrial buildings. Leveraging more than a century of experience, Leviton helps customers create sustainable, intelligent environments through its electrical wiring devices, network and data center connectivity solutions, and lighting energy management systems. From switches and receptacles, to daylight harvesting controls, networking systems, and equipment for charging electric vehicles, Leviton solutions help customers achieve savings in energy, time and cost, all while enhancing safety. For more information, visit www.leviton.com.