Toggle and Pushbutton Switches are process-sealed.
Press Release Summary: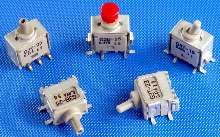 Series G3T toggles and G3B pushbuttons feature Sliding Twin Crossbar contact mechanism for logic level switching reliability. Contacts are gold-plated and wiped clean with every actuation. Both series have bushing and housing constructed of one molded piece with rubber o-ring. Available as single- or double-pole, G3T toggles can be configured in 5 circuits, including momentary and maintained action, while G3B pushbuttons are offered in momentary circuits.
---
Original Press Release:

NKK Switches Offers Series of Ultra-Miniature, Sealed Devices


Featuring Sliding Twin Crossbar: logic level switching reliability

Scottsdale, Ariz. (Dec.13, 2004)-Committed to providing the highest quality and the most reliable switches in the market, NKK Switches announced the G3T and G3B series of ultra-miniature, sealed, surface mount toggle and pushbutton devices.

The G3T and G3B series devices feature NKK's award winning STC (Sliding Twin Crossbar) contact mechanism. This innovative design guarantees unparalleled logic level switching reliability. The contacts are gold plated and wiped clean with every actuation, providing a smoother, positive detent actuation and increased contact stability.

Both the G3T toggles and the G3B pushbuttons are completely process sealed for automated processing techniques including flux-cleaning procedures. The bushing and housing are constructed of one molded piece, and a rubber o-ring surrounds the actuator. In addition, a rubber seal surrounds the base where it fits into the actuator. The terminals are epoxy sealed and molded into lock out flux, solvents and other contaminants. The heat resistant resin used to construct the housing, base and actuator on all these SMT switches allows vapor phase and infrared convection reflow soldering.

These devices are available in single pole or double pole. The G3T toggles can be configured in five different circuits including momentary and maintained action. The G3B pushbuttons are available in momentary circuits. Design engineers can specify upright, upright with support bracket or right angle mounts. The electrical rating for all options is 0.4VA maximum @ 28V AC/DV maximum. They are designed for use in low voltage, low current logic level applications. The ultra-miniature size of the G3T and G3B allows high-density mounting. Their extremely light weight of .25g makes these switches ideal for handheld equipment as well as innumerable other applications.

Coplanarity control is excellent and guaranteed, making the use of solder paste on decreasing screen thickness a non-issue during processing. The tolerance zone is 0.15mm (.0059") maximum, which is the allowable distance between all considered surfaces in two parallel planes. Gull-wing terminals provide mechanical stability during soldering and simplify solder joint inspection. Tape-reel and stick-tube packaging allow rapid automated placement of these surface mount devices. Partitioned tray packaging is available upon request.

A leading designer and producer of electromechanical switches, NKK Switches offers one of the industry's most extensive selections of illuminated, process sealed, miniature, specialty and surface mount switches. The company manufactures more than 3 million toggle, rocker, pushbutton, slide, rotary, and DIPS rotary, keypad and keylock switches. NKK Switches maintains a complete network of qualified representatives and distributors through the United States, Canada, Central and South America, Europe and Asia.

NKK Switches is keenly aware of the myriad of issues that are covered under the RoHS directive. With more than 50 years experience in the switch industry and as an environmentally-conscious company, NKK is committed to not only providing high quality products and services, but also providing environmentally safe products for our valued customers.

For more information, contact NKK Switches, 7850 E. Gelding Dr., Scottsdale, AZ 85260. Phone 480-991-0942. Fax 480-998-1435. Or visit the NKK Switches Web site at www.nkkswitches.com.

Leah Holiman
Accout Coordinator
The Martz Agency
14500 N. Northsight Blvd.
Suite 301
Scottsdale, AZ 85260
480.998.9590

More from Electronic Components & Devices