Toddler Seat and Baby Changing Stations are suitable for public washrooms.
Press Release Summary: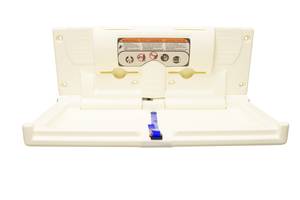 Model 964 Toddler Seat comes with load capacity of 50 lb. and is made from bacteria-resistant plastic. Toddler seat features steel hinges and an anti-microbial safety belt with a nylon buckle. Baby changing stations are available in 962 and 963 models. Changing stations are designed with safety straps with adjustable buckles, purse and diaper bag hooks. Stations can support load up to 250lb.
---
Original Press Release:
Bradley's Toddler Seat and Baby Changing Stations Increase Accessibility in Public Washrooms
Bradley Corp., the industry leader in providing commercial washroom innovations, introduces its line of durable and convenient child care solutions, including its new Toddler Seat and Baby Changing Stations.
Bradley's child care solution package was designed to help facilities meet the Bathrooms Accessible in Every Situation (BABIES) Act – a federal law passed in 2016 by U.S. Congress – which requires all public restrooms to be equipped with appropriate baby changing facilities. Bradley's ADA-compliant child care product offerings keep restroom facilities compliant, functional and convenient for parents, caregivers and families.
Toddler Wall Seat
Rated to support up to 50 pounds, Bradley's Model 964 Toddler Seat provides a safe, secure and hygienic place for children during restroom visits. Made with sturdy high-density bacteria-resistant plastic in solid light gray, the Toddler Seat also incorporates an anti-microbial safety belt with a nylon buckle that can be easily adjusted with one hand. Designed with steel support hinges with concealed air shocks, the seat opens and closes smoothly.
Baby Changing Stations
Bradley's new Model 962 and Model 963 Series Baby Changing Stations, designed to complement the Toddler Seat, ensure a restroom is in compliance with the BABIES Act, while presenting a uniform aesthetic among a facility's child care solutions. The surface mounted Baby Changing Stations feature concealed air shocks designed to make opening and closing motions easy, smooth and safe. Rated to support up to 250 pounds, the stations' plastic components are bacterial-resistant. These models also include safety straps with adjustable buckles, and purse and diaper bag hooks.
"By enhancing and rounding out our line of child care solutions, Bradley helps facilities provide patrons secure and reliable organizational aids designed to solve a number of pain points in restrooms," said Laura Stang, senior product manager, Bradley Corp.
For more information on Bradley's complete child care solution package, please visit: https://www.bradleycorp.com/accessories/commercial/child-care-solutions
For over 95 years, Bradley Corporation has designed and manufactured commercial washroom and emergency safety products, and today is the industry's leading source for commercial plumbing fixtures, washroom accessories, restroom partitions, solid plastic lockers, and emergency safety fixtures and industrial grade electric tankless heaters. Headquartered in Menomonee Falls, Wis., Bradley serves the commercial, industrial, health care, retail, and education markets worldwide. For more information, contact Bradley at 1-800-BRADLEY or www.bradleycorp.com.
More from Electrical Equipment & Systems