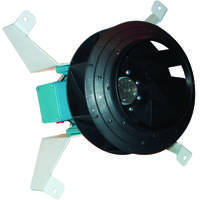 Continental Fan's TNC Cabinet Cooling Fan is the ideal solution for special cooling requirements such as electronic cabinets, computer rooms, refrigeration equipment, air filtration, and much more. Designed for exceptionally quiet and rapid heat dissipation, the TNC Fan utilizes the advanced TEK backward curved airfoil impeller to provide exceptional performance and efficient cooling. TEK Impellers combine precision injection molding techniques with modern high strength plastics to produce a wheel that is stronger than steel, yet half its weight.
TNC Fans have high-pressure capability and are available in nine sizes that produce airflows to 5,000 cfm. Custom mounting arms and special designs are available to accommodate most applications. Utilizing standard NEMA motors, the fan can be connected to an independent motor speed control system.
FEATURES & BENEFITS
Highly efficient airfoil 'TEK' impellers
Exceptionally quiet, rapid heat dissipation
High pressure capability
Custom mounting arrangements available
Standard NEMA motors
Nine sizes available; capacities to 5000 cfm
The TNC Cabinet Cooling Fan, a better AIRFLOW solution from:
Continental Fan… better AIRFLOW by DESIGN™
For more information contact Bruce Gover, or visit us on the web to view our full line of cabinet cooling fans.
Contact: Bruce Gover
Continental Fan Manufacturing Inc. 
T: 800-779-4021 Ext: 302
F: 716-842-0611
E: bgover@continentalfan.com 
W: https://continentalfan.com
Related