Titanium Tube and Plate for Heat Exchanger and Industry Equipments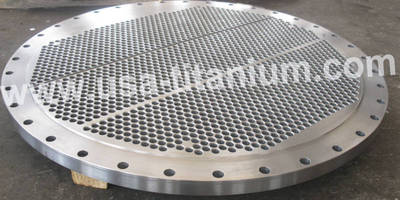 Heat Exchanger, Pressure Vessel and Industry Equipments are mainly made up of titanium seamless tube or titanium welded tube, titanium plate or titanium fin plate and titanium tube sheet.



Most used sizes are titanium seamless tube or titanium welded tube: OD0.5"(12.7mm), 0.63"(16mm), 0.75"(19.05mm), 1"(25.4mm), 1.25"(31.75mm), 1.5"(38.1mm), 1.78"(45mm), 2"(50.8mm) etc, and WT0.02"(0.5mm), 0.024"(0.6mm), 0.028"(0.71mm), 0.035"(0.89mm), 0.049"(1.24mm), 0.11"(2.77mm), 0.125"(3.17mm) etc.



Currently there are titanium tube sheet and titanium elliptical/spherical head, titanium clad steel plate/tube sheet from USTi.



Usually titanium clad steel tube sheets would be made up of stainless steel F53 plus titanium GR2. The stainless steel plate F53 is a very special metal that is hard to compound with other metals, but now USTi has the unique and mature explosive composite technique to produce it.



More from Construction Equipment and Supplies