Titanium Stockist Increases Value-Added Sawing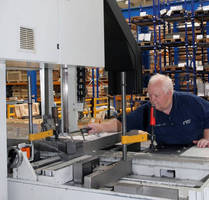 In the last three years, Redditch-based titanium stockist, VSMPO Tirus, has invested heavily in machine tools to allow it to deliver material cut to size. Customers, mainly in the aero engine and airframe manufacturing sectors, benefit from lower costs and more reliable delivery compared with when VSMPO Tirus was subcontracting out the machining.

Latest plant to be installed includes a large water jet cutting machine from Flow and three Kasto bandsaws - two KASTOtec horizontal models and a KASTObloc vertical block and plate saw, which joins a similar model dating back to 2004.

Located in the Urals, VSMPO AVISMA is the world's largest titanium producer. Ian Perks, Operations Director at the UK subsidiary, said that service to its customers, notably Rolls-Royce and Airbus, was paramount. Other users, including medical and offshore equipment manufacturers, are equally demanding. The need for top quality and prompt delivery prompts the stockist to source the most reliable equipment for machining the titanium alloys.

When it was formed in 1998, the Redditch operation acquired a bandsaw for cutting relatively small volumes of bar, billet and ingots, but recognised the potential to bring plate sawing in-house as well. Not only could the company make extra profit, but it could also reduce the price it charged for the service.

Kasto was chosen to supply the first block and plate bandsaw, a KASTObloc U4 with 3,100 (L) x 660 (W) x 580 (H) mm cutting capacity, as it had previously solved the problem of how to cut unannealed titanium billet with internal stresses without the blade jamming. Detailed advice on blade selection, band speed and infeed rates was provided, based on the experience of other Kasto bandsaw users around the world involved in cutting titanium.

The first 430 mm capacity KASTOtec AC4 horizontal bandsaw was installed in 2007 to assist the pre-existing model as cutting volumes of bar and billet increased. It was followed in 2009 by a second KASTObloc U4 and in 2010 by a second KASTOtec AC4.

"The combination of rigid Kasto bandsaws and Lenox tungsten carbide tipped blades copes well with cutting hard titanium alloys," concluded Mr Perks. "Using the latest technology, production rates are four times faster than they were 40 years ago."

KASTO Ltd,

Unit 5,

Garamonde Drive,

Wymbush,

Milton Keynes, MK8 8DF.

Tel: 01908 571590.

Fax: 01908 566106

E-mail: sales@kasto.uk.com

Web site: www.kasto.uk.com

Contact:

Ernst Wagner,

Managing Director.

More from Packaging Products & Equipment