Titanium and Stainless Steel Materials suit AM applications.
Press Release Summary: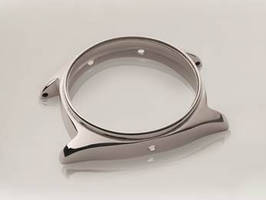 Offering corrosion resistance and biocompatibility, EOS Titanium Ti64ELI is suited for additive manufacturing of medical implants. Parts built with alloy have chemical composition and mechanical properties corresponding to ASTM F136. Also offering corrosion resistance and biocompatibility as well as high ductility, EOS StainlessSteel 316L is suited for surgical instruments, endoscopic surgery, orthopedics, and implants. Both can be processed on 400 Watt EOSINT M 280 metal laser-sintering system.
---
Original Press Release:

EOS Introduces Two New Metal Materials for Additive Manufacturing: EOS Titanium Ti64 ELI and EOS Stainless Steel 316L



Corrosion resistant and biocompatible materials open up new industrial fields of application



Krailling — EOS, the technology and market leader for design-driven and industrial Additive Manufacturing solutions, expands its metal materials portfolio with EOS Titanium Ti64ELI and EOS StainlessSteel 316L. Christiane Krempl, Product Marketing Manager Metals at EOS, adds: "A broader variety of titanium and stainless steel materials mirrors the ever-changing requirements among our customers and opens up new fields of application."



EOS Titanium Ti64ELI: light metal alloy – corrosion resistant and biocompatible

Parts built in EOS Titanium Ti64 have a chemical composition and mechanical properties corresponding to ASTM F136. Providing a high-detail resolution, this alloy can be processed on an EOSINT M 280 (400 Watt) metal laser-sintering system and shows an excellent corrosion resistance. Due to its biocompatibility and high grade of purity it is particularly suited for the additive manufacturing of medical implants.



EOS StainlessSteel 316L: corrosion resistant and biocompatible stainless steel

This stainless-steel alloy has been optimized specifically for processing on the EOSINT M 280 metal laser-sintering system. It shows a good corrosion resistance and a high ductility. Parts built from EOS StainlessSteel 316L have a chemical composition corresponding to ASTM F138 ("Standard Specification for Wrought 18Cr-14Ni-2.5Mo Stainless Steel Bar and Wire for Surgical Implants UNS S31673"). In the medical industry, this alloy is particularly suited for surgical instruments, endoscopic surgery, orthopedics and implants.



The material is also a good choice for use in the watch and jewelry industries, where the designer benefits from extensive freedom of design. Shaping and structural restrictions as such are a thing of the past. Parts such as watch cases (thanks to defined hollow spaces) can be manufactured more cost-efficiently and easily, saving resources. The material is also well suited for additive manufacturing applications such as spectacle frames or functional elements in yachts. In the aerospace industry, EOS StainlessSteel is a good choice for the manufacture of clamping elements or heat exchangers. Parts manufactured from that material can be mechanically post-processed or polished.  



About EOS

Founded in 1989 and headquartered in Germany, EOS is the technology and market leader for design-driven, integrated e-Manufacturing solutions for Additive Manufacturing (AM), an industrial 3D printing process. EOS offers a modular solution portfolio including systems, software, materials and material development as well as services (maintenance, training, specific application consulting and support). As an industrial manufacturing process it allows the fast and flexible production of high-end parts based on 3D CAD data at a repeatable industry level of quality. As a disruptive technology it paves the way for a paradigm shift in product design and manufacturing. It accelerates product development, offers freedom of design, optimizes part structures, and enables lattice structures as well as functional integration. As such, it creates significant competitive advantages for its customers. For more information please visit our website under www.eos.info.



Contact



EOS GmbH Electro Optical Systems

Claudia Jordan

Public Relations Specialist

Telephone: +49 89 893 36 2134

E-Mail: claudia.jordan@eos.info   



EOS of North America, Inc.

Jessica Nehro

Phone: +1 248 306 0143 x8104

e-mail: jessica.nehro@eos.info

More from HVAC