Titan's Omni HD Digital Microscope features GUI.
Press Release Summary: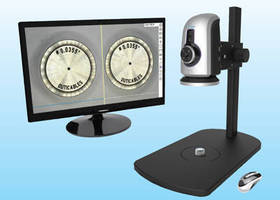 Operating without a PC, Omni HD digital microscope System can provide 60 frames per second video-image quality using its image processing and control engine. Staying calibrated over the entire zoom period, Omni is suitable for quality control, testing, rework, assembly, inspection and documentation tasks. Camera control station allows manual adjustments.
---
Original Press Release:
Digital 2D Microscope and Measurement System Introduced by Titan Tool Supply
Titan Tool Supply, Inc., Buffalo, New York, announces the introduction of an integrated, full HD digital microscope system which operates without a PC and, utilizing its powerful image processing and control engine, delivers superb, video-image quality at 60 frames per second.

According to Titan, the Omni offers a solution to a broad range of quality control, testing, rework, assembly, inspection and documentation tasks. This is due to its unique ability to remain in calibration over the entire zoom range, a feature that differentiates the Omni from other digital inspection systems.

Control features of the Omni include a custom-designed mouse or GUI (Graphical User Interface) which provides intuitive and efficient operation of the entire system and a separate camera control station which allows manual adjustments for auto and manual focus, exposure, gain, brightness and white balance, ensuring ultra sharp, high contrast imaging.

For more information, contact

Titan Tool Supply, Inc.,
68 Comet Avenue,
Buffalo, NY 14216.
Phone: 716-873-9907.
Fax: 716-873-9998.
Email:info@titantoolsupply.com.
Website:www.TitanToolSupply.com.

For product details and pricing, download a PDF file at:https://www.titantoolsupply.com/Omni%20HD%202D%20Digital%20Measuring%20System

Please address reader service inquiries at the above address to:

Frank Menza,
President,
Titan Tool Supply, Inc.
Email:info@titantoolsupply.com
Contact This Company Download Spec Sheet
More from Vision Systems