Tire Marking System is designed for optimal uptime.
Press Release Summary: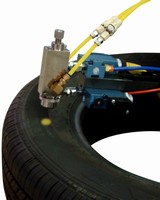 Built around DS-20 Macro Mini Marker, DelFlo Closed-Loop Recirculating Marking System features disposable ink cartridges and quick-change connectors. Ink is circulated continually through system during operation, maintaining its original viscosity and eliminating pigment separation or clogging. Used as stand-alone machine or retrofitted to existing Dell Marking systems, DelFlo System is offered with white, blue, green, yellow, red, pink, and orange ink.
---
Original Press Release:

Enhanced Performance inTire Marking System Increases Up-Time



The new DelFlo Closed-Loop Recirculating Marking System, featuring disposable ink cartridges and quick- change connectors, add new productivity levels to tire marking systems exclusively available from Dell Marking Systems.

A specially engineered DS-20 Macro Mini Marker is at the heart of the system. Ink is circulated continually through the system during operation. The constant recirculation maintains ink at its original viscosity specification and eliminates pigment separation or clogging anywhere through the system.

Another important new feature is the ink replacement cartridge. This new feature eliminates the refilling of reservoirs so the operator never comes in direct contact with the ink and no tools are required. Combined with the quick-change hose connectors, changing inks and markers is a radically simplified operation.

The DS-20 Macro Mini Marker system can stand alone or can be adapted to an existing marking system.
The DelFlo System stands alone or can be retrofitted to existing Dell Marking systems.

Standard ink colors are white, blue, green, yellow, red, pink and orange. Workplace safe, low VOC pigmented and non-pigments inks for all types of automatic and manual applications and UV inks are available.

Dell Marking provides complete marking system design and build services and free part/paint evaluation services.

For further information, visit the Dell website at www.dellid.com or contact;

Michael Grattan
Dell Marking Systems.
721 Wanda, Ferndale MI 48220.
P (248) 547-7750
F (248) 544-9115