Tire Inflation System adjusts pressure automatically.
Press Release Summary: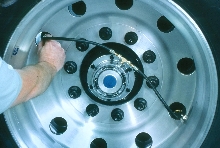 HENDRICKSON TIRE INFLATION SYSTEM (HTIS) maintains inflation to specified level. System detects low tire pressure and alerts operator via warning light. It then directs air when said tire dips below predetermined pressure level. Air travels from supply tank through air lines inside axle to wheel-ends. Rotary union allows air to flow from non-rotating axle spindle to rotating hubcap fitting. Hoses connect from hubcap tee to tires.
---
Original Press Release:
HTIS Puts Trailer Air to Work Maintaining Proper Tire Inflation, Enhancing Productivity

CANTON, OH - A little air at the right time, in the right place can save trailer operators a lot of time and money.

The recently introduced HENDRICKSON TIRE INFLATION SYSTEM (HTIS) option for INTRAAX® and VANTRAAX® trailer suspension systems delivers that needed air -- automatically.

This responsive tire maintenance system maintains inflation to a specified level, assisting owner operators and fleets in minimizing costly, excessive tire wear and improving productivity and fuel mileage.

Truckers know the pitfalls, from both productivity and cost perspectives, of improper tire inflation: reductions in tire tread life - increased rolling resistance, which burns more fuel - reduced casing life - poor ride and handling - to name a few.

Tires account for approximately 50 percent of total maintenance expenses, and statistics verify that tires are second only to fuel in trailer operating costs, according to industry sources.

Even properly maintained tires are subject to air loss through regular use, punctures, road hazards and changes in weather. Over the years, fleet managers and owner operators have continued to struggle with finding ways to maintain proper tire inflation.

Maintaining proper tire pressure results in significant benefits. HENDRICKSON TIRE INFLATION SYSTEM (HTIS) addresses this issue by sustaining correct tire pressure to a specified level.

HTIS serves as an effective deterrent to this long-time industry nuisance. The system detects low tire pressure and alerts the operator to the occurrence. It responds by directing air when a tire dips below a predetermined pressure level. HTIS activates only when needed - constant air pressurization to the tires is not required - reducing air demand and prolonging system life.

With HTIS, air travels from the supply tank through air lines inside the axle to the wheel-ends. A rotary union allows air to flow from a non-rotating axle spindle to the rotating hubcap fitting. Hoses connect from a hubcap tee to the tires.

A warning light alerts the operator to system status and maintenance activity, and the system records episodes of low tire pressure for retrieval during servicing. Check valves help prevent tire pressure loss back through the system. Manual fill and pressure checks may be accomplished at the hose end.

An addition to Hendrickson's READY-TO-ROLL® (RTR®) options, HTIS connects all tires to the trailer air supply and may be combined with any of an extensive array of wheel-end configurations and spindles available for INTRAAX and VANTRAAX.

For additional information about HTIS, contact Hendrickson International, Trailer Suspension Systems, Canton, Ohio, toll free at 866-RIDEAIR (866-743-3247).

Hendrickson International is one of the largest global suppliers of truck and tractor suspensions, trailer suspensions, lift axles, springs, bumpers and stamped components to the commercial transportation industry. Headquartered in Woodridge, Ill., Hendrickson has been meeting the needs of the transportation industry for more than 80 years. Visit the Hendrickson web site at www.hendrickson-intl.com.
More from Fluid & Gas Flow Equipment