Tire Changers handle range of tires and rims.
Press Release Summary: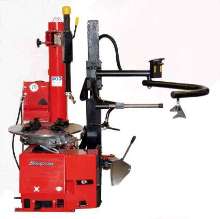 Deluxe Swing Arm Models EEWH315A and EEWH317A use pneumatic power to depress tire sidewalls during installation and removal. Rims up to 24 in. dia can be accommodated for outside clamping. Pedal-controlled turntable receives power from 1.5 hp pneumatic motor on EEWH315A model and 1 hp electric motor on EEWH317A model. Utilizing 1 hp electric drive motor, Model EEWH316A handles rims up to 20 in. dia for outside clamping and 22 in. dia for inside clamping.
---
Original Press Release:
New Snap-On Swing Arm Tire Changers Offer Versatility and Convenience

KENOSHA, Wis., Dec. 21, 2004 -With the introduction of three new Snap-on® Swing Arm Tire Changers, models EEWH315A, EEWH316A and EEWH317A, technicians now have a selection of equipment for mounting a range of tires and rims. The new tire changers feature the most advanced options available to quickly service tires and help increase shop productivity, while protecting expensive rims and ensuring operator safety.

The three Snap-on Swing Arm Tire Changers accommodate wheels on passenger cars, light trucks, motorcycles and ATVs. Two of the tire changers offer the added capability of handling larger, low profile, run flat and other performance tires.

Models EEWH315A and EEWH317A

The Snap-on EEWH315A and EEWH317A Deluxe Swing Arm Tire Changers provide the best in convenience and adaptability for high-volume tire repair shops and dealerships servicing a wide range of tire and wheel assemblies.

Both units feature a user-friendly Pneumatic Bead Assist (PBA) device that uses pneumatic power to depress tire sidewalls during installation and removal. The air-driven assistance helps a single operator change low profile tires, run flats and other performance tires with extremely stiff sidewalls. No second operator or tire bar is needed. The PBA device is an optional feature on the EEWH316A model.

The unique sliding turntable jaws handle rims from the inside or outside with smooth, even and tight clamping for increased efficiency and protection. A variety of wheel sizes can be accommodated, including rims up to 24 inches in diameter for outside clamping. The larger clamping capacity is especially suited to handle large custom wheels. The pedal-controlled turntable receives power from a 1.5 HP pneumatic motor on the EEWH315A model and a 1 HP electric motor on the EEWH317A model.

Model EEWH316A

The Snap-on EEWH316A Swing Arm Tire Changer is designed for passenger car, light truck and motorcycle wheels. The unit handles rims up to 20 inches in diameter for outside clamping and 22 inches in diameter for inside clamping.

A 4.5-gallon air tank capacity supplies ample inflation pressure with four high-efficiency inflation jets mounted into the turntable clamps for maximum efficiency in inflating tires, regardless of rim diameter. A 1 HP electric drive motor powers the unit's turntable.

All Snap-on Swing Arm Tire Changers offer protective features that minimize the chance for damaging wheels during work. The mount/demount head features a replaceable nylon protector that helps prevent scratches to light alloy rims. The hex-shaped design on the hinged mount/demount arm eliminates flex movement when mounting low profile and high-speed rated performance tires.

Clamping jaws are outfitted with scratch-resistant pads to avoid bottom-side wheel scrapes and damage. A plastic protector for the tire bar is also available as an option. Pedal controls are ergonomically positioned to reduce fatigue. A large, zinc-plated bead breaker blade and arm is adjustable to three different positions for optimal blade/pad distance. The easy-to-read inflation gauge is mounted in full view on the mount/demount tower. A handy storage compartment is positioned on the tower for quick access to tire valves, caps and tools.

An optional Safety Restraint Arm (SRA) for all three models prevents tires and rims from moving during the inflation cycle, helping prevent injuries from unrestrained tire or rim failures. The SRA arm also includes a safety interlock feature that secures the rim before beginning the inflation process. An anti-rotation lock mechanism prevents lateral movement during operation.

Customers can find out more about the Snap-on Swing Arm Tire Changers (EEWH315A, EEWH316A and the EEWH317A) by contacting their local Snap-on representative, visiting www.snapon.com or calling toll free 877-SNAPON-2 (877-762-7662).

Snap-on Tools Company, LLC is a subsidiary of Snap-on Incorporated, a leading global developer, manufacturer and marketer of tool and equipment solutions for professional tool users. Product lines include hand and power tools, diagnostics and shop equipment, tool storage products, diagnostics software and other solutions for the transportation service, industrial, government, education, agricultural, and other commercial applications, including construction and electrical. Products are sold through its franchisee dealer van, distributor channels and company direct sales, including snapon.com. Founded in 1920, Snap-on Tools is a $2+ billion, S&P 500 company headquartered in Kenosha, Wis., and employs approximately 12,000 worldwide.
More from Machinery & Machining Tools