Tips and Sponges meet diverse soldering challenges.
Press Release Summary: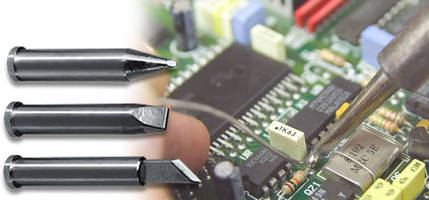 Offered in 19 styles, Plato XT tips are compatible with Weller WX stations using WXP120 iron. Soldering tip geometries include conical, screwdriver, bevel, knife, and SMD flow tip. Available to fit Hakko FX-888 and FX-888E stations, slitted sponge (part No. CS-888S) captures solder as operators wipe off tip. Sponge with large hole (No. CS-888H) adds surface area for wiping, and all Plato sponges are made of pure cellulose, which will not contaminate soldering tips.
---
Original Press Release:

Techspray Introduces New Plato Tips and Sponges



Techspray Introduces New Plato Tips and Sponges



Amarillo, TX – Techspray is expanding the Plato product line with a full line of Weller WX compatible tips and sponges for Hakko FX-888 stations. With Plato products, Techspray's goal is to provide solutions that are superior to what is included with the original soldering stations. The addition of Plato products to a soldering process can increase efficiency and reduce cost.



Introducing new Plato XT tips – 19 different styles for every soldering challenge! Plato XT tips are compatible with Weller WX stations using the WXP120 iron. Plato is one of the largest manufacturers of soldering tips in the world, so they produce tips with faster heat recovery and longer life, even with lead-free solders. Soldering tip geometries include conical, screwdriver, bevel, knife, and SMD flow tip.



Techspray is also rolling out two new sponges to fit Hakko FX-888 and FX-888E stations. The slitted sponge (part #CS-888S) is designed to capture solder as you are wiping off your tip. This prevents flinging solder and potentially causing injury. The sponge with the large hole (#CS-888H) adds surface area for wiping. All Plato sponges are made of pure cellulose, which will not contaminate and shorten the life of expensive soldering tips.



Plato HS tips are fully compatible with FX-888 and FX-888E stations, and a quality substitute for Hakko T18 tips.



Techspray, a division of Illinois Tool Works (ITW), is a leading manufacturer of chemical products for the electronics industry. Techspray formulates, blends, and packages a wide variety of chemicals and assorted support products for the electronics industry, heavy industry, and plant and equipment maintenance including degreasers, defluxers, conformal coating, dusters and water-based cleaners. More information can be found at http://www.techspray.com.



Additional Information:

Techspray

Kevin Pawlowski

Senior Product Manager

P.O. Box 949

Amarillo, Texas 79105

Phone: 800-858-4043 x531

Fax: 806-372-8750

Email: kpawlowski@techspray.com

Website: http://www.techspray.com

More from Fluid & Gas Flow Equipment