Tipped Tooling suits high-production applications.
Press Release Summary: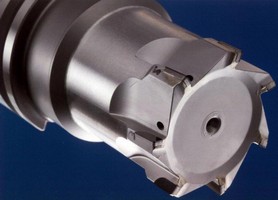 Designed for reaming, fine boring, and milling, MODCO® Tipped Tools can be engineered with steel or carbide bodies and are provided in any required diameter and length combination. PCD tips are available for aluminum and other non-ferrous material applications, while CBN tips are offered for iron jobs. Construction technique allows tools to be engineered with appropriate number of tips to achieve required part dimensions, surface finish, and geometric relationships.
---
Original Press Release:

Versatile New Tipped Tooling for High Production Applications



Valenite LLC, a leading manufacturer of cutting tool inserts, holders and tooling systems, expands its range of engineered tooling solutions with the introduction of the MODCO® Tipped Tools, for reaming, fine boring, and milling. Like other MODCO products, these tools are designed and manufactured to specific part, process and application requirements. This construction technique allows tools to be engineered with maximum tooth density for any specified diameter, provides high strength and rigidity, and is capable of running at elevated cutting speeds. This translates to reduced machining times, and no tool presetting means reduced set-up time, minimum run-out, maximum tool life, and consistent quality.

MODCO Tipped Tools can be engineered with either steel or carbide bodies, and can be fitted with advanced PCD tips for applications on aluminum and other non-ferrous materials, or with CBN tips for your most challenging iron jobs. MODCO can provide tools to virtually any size diameter and length combination needed, and with the appropriate number of tips to achieve the part dimensions, surface finish and geometric relationships required. For economy, tools with worn or damaged tips can be reconditioned by Valenite to "like new" condition.

With MODCO tipped tooling, the engineered solutions are built upon over 60 years of creating custom tools for high volume machining processes, plus the global resources of Valenite and Safety (pronounced Sa fa te) to support any project. The Valenite and Safety joint venture offers these MODCO tipped tools on a global basis, and assure users that they will be manufactured to the highest worldwide quality standard, with fast, responsive service.

Valenite, headquartered in Madison Heights, Michigan with sales and service operations worldwide, is one of the largest suppliers of industrial cutting tools in the world. The company offers a complete line of standard and special indexable-insert turning, milling, grooving, threading, boring and drilling products to a variety of industries. Its product line also includes the ValCOOL® line of cutting fluids. In addition, special high-production tooling for custom machining systems is produced under the MODCO® name. Together the Valenite family of products along with customer service and support offers a single resource for tool and machining expertise to optimize cutting operations.

More from Mechanical Components and Assemblies