Tiny Auto Focus / 3X Zoom Lens Unveiled at 3GSM Demonstrates SGUIGGLE Motors for Phone Cameras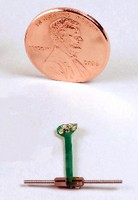 New Scale's partner Tamron markets lens module to world's leading handset makers

Victor, NY - Feb. 21, 2007 - New Scale Technologies' partner Tamron Co. Ltd. demonstrated an ultra-compact auto focus / 3x optical zoom lens module for phone cameras at the 3GSM conference in Barcelona last week. The new AF 3X zoom module, driven by New Scale's patented piezoelectric SGUIGGLE motors, measures only 10.8 mm x 18.2 mm x 16.3 mm. It offers:

Compatibility with 3MP and 5MP image sensors in 1/3.2" size
Focal lengths from 3.63 mm to 10.89 mm
F-Numbers from 3.2 to 6.0
Shutter speed of 1/3000

Tamron, one of the world's leading manufacturers of precision optics, says the new module will offer tremendous flexibility and versatility in layout for handset manufacturers. (See Tamron's press release and photo at www.tamron.co.jp/en/news/release_2007/0214.html )

The world market for mobile phones cameras is forecast to be nearly one billion by 2009. Handset makers are moving to incorporate high-end 3MP and 5MP image sensors in phone cameras, in order to produce image quality that rivals stand-alone digital cameras. However, achieving that image quality also requires high-end precision optics and both auto focus and optical zoom capabilities, to project a sharp and clear image onto the sensors.

"Until now, no one has delivered a combination AF 3X zoom lens in a module this small," said David Henderson, president and chief technology officer of New Scale. "The miniature SQUIGGLE motor has enabled Tamron to deliver high quality optics in the tiny form factor that mobile handset designers demand."

The SQUIGGLE motor's technical advantages over other focus and zoom technologies include small size, robustness, and low battery power consumption. Tamron's advantages include a reputation for precision optics and established sales relationships with the world's leading handset manufacturers. New Scale expects the SQUIGGLE motor to be found in a significant share of next-generation handsets as part of the Tamron AF 3X zoom module.

"The engineering teams in Japan and New York worked together closely to ensure high performance of the integrated motor and precision lens assembly," Henderson said. "We're very pleased to be working with Tamron in this exciting new market for high-resolution phone cameras."

About Tamron Co. Ltd.
Tamron Co., Ltd. (profile: www.tamron.co.jp/en/corp/outline/index.html ) is a leading provider of photographic lenses, optical components, and commercial / industrial use optics. With headquarters in Saitama, Japan, it has 5,000 employees and offices in Japan, the USA, Germany, France, Hong Kong and Shanghai. It is listed on the Tokyo Stock Exchange.

About New Scale Technologies, Inc.
New Scale Technologies, Inc. (www.newscaletech.com) makes miniature ceramic motors that enable our customers to create smaller products and research tools. Our piezoelectric SQUIGGLE® motors are smaller, more efficient and more precise than conventional motors. With very few parts and no gears, this patented piezoelectric motor design uses ultrasonic vibrations to create precise linear motion. New Scale's miniature motors are compatible with extreme environments including vacuum, very low (sub-Kelvin) temperatures, and high magnetic fields. They are used in nanotechnology research, microelectronics, optics, lasers, biotechnology, medical devices, electronic locks, intelligent fasteners, aerospace and defense, fluid control, and office/consumer products including mobile phone cameras. SQUIGGLE is a registered trademark of New Scale Technologies, Inc.

More from Computer Hardware & Peripherals