Tin/Bismuth Solder Paste features low-melting formulation.
Press Release Summary: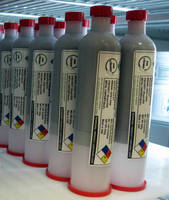 With halide-free, rosin-based chemistry, NC722 no-clean solder paste can be used with low-temperature alloys, such as Sn42/Bi58, and lends repeatability and consistency to printing process. Product meets/exceeds requirements for ANSI/J-STD -004/-005 as well as all Bellcore test criteria for solder pastes and features non-hygroscopic, low voiding/high-reliability formulation suited for high RH areas. Residues left behind are clear and maintain virtually indefinite pin probability life.
---
Original Press Release:

FCT Assembly Develops New Low-Melting Tin/Bismuth Solder Paste



CONTACT:          FOR IMMEDIATE RELEASE

Jeremy Glanzer, Marketing

1309 North 17th Ave., Greeley, CO 80631

E-mail: jglanzer@fctassembly.com

Web site: www.fctassembly.com

GREELEY, CO – FCT Assembly announces that it has developed a new low-melting Tin/Bismuth solder paste – NC722. The new no-clean solder paste is a new generation halide-free, rosin-based chemistry designed to provide a previously unseen level of repeatability and consistency to the printing process.



NC722 is designed to be used with low-temperature alloys such as Sn42/Bi58. The paste offers an excellent open time, extended abandon time and good soldering activity with all surface finishes. Additionally, it meets or exceeds the requirements for ANSI/J-STD -004, -005 as well as all Bellcore test criteria for solder pastes. Residues left behind are clear and maintain a virtually indefinite pin probability life.



Paste attributes include a wide reflow window with good solderability on various PCB surface finishes and unlimited pin probability and clear post-process residues. NC722 features excellent print volume consistency with surface area ratios (SAR) as low as 0.55 when used with the UltraSlic™ stencil technology. Additionally, the non-hygroscopic, low voiding/high-reliability formulation is suitable for high RH areas.



For more information, visit www.fctassembly.com.



About FCT Assembly

FCT Assembly consists of three divisions: FCT Solder, Fine Line Stencil and A-Laser. With numerous facilities in the United States, FCT is one of the electronics industry's leading manufacturers of lead-free and leaded solder products, superior quality stencils and precision laser-cut parts.



The company takes a multidisciplinary approach to continuously develop new products and processes. With experts in the machine automation of electronics, metallurgy, chemistry, physics and metal deposition, FCT can quickly react to market trends and customer challenges.  Our customers can always count on the latest technology and products with the highest quality.

For more information, visit www.fctassembly.com.









CONTACT:         

Jeremy Glanzer

Marketing

1309 North 17th Ave.

Greeley, CO 80631

E-mail: jglanzer@fctassembly.com

Web site: www.fctassembly.com





More from Non-Industrial Products