Timing Belts feature .080 pitch.
Press Release Summary: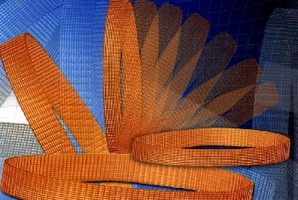 Made of Kevlar-reinforced polyurethane, Series A6B16-D offers positive, non-slip power transmission without vibration, chatter, or backlash. Double-sided tooth action enables belts to wind between pulleys to synchronize shaft rotations. Capable of operating in temperatures from 0-180°F, and intermittently to 248°F, belts are available in widths of 1/8, 3/16, ¼, and 3/8 in. with 132-500 grooves/belt and pitch lengths from 10.56-40.00 in.
---
Original Press Release:

Double-Sided .080 Pitch Timing Belts from SDP Provide Versatility in Synchronizing Shaft Rotations



New Hyde Park, New York - Designing compact serpentine drives is now easier with a complete selection of double-sided .080 Pitch timing belts from Stock Drive Products. These rugged, Kevlar reinforced, endless belts, identified as the A6B16-D Series offer positive, nonslip, accurate power transmission without vibration, chatter or backlash.

Applications include machine tools, mowers, business machines, copiers and printers where these timing belts do more than just transmit power. Their double-sided tooth action and excellent flexibility encourages versatility in drive design because they can wind between pulleys to synchronize shaft rotations, including counterrotating shafts.

Such serpentine characteristics are also desirable in high-reduction drives where there is need to improve the wrap-around capabilities of belts. In such cases, the double-sided toothed belts eliminate the need for several belts to be used to perform the same job. In addition, they operate efficiently in small spaces where noise must be minimized.

These belts are made of durable, Kevlar-reinforced Polyurethane, capable of operating in temperature ranges from 0° to 180° F, and intermittently to 248° F. The A 6B16-D Series is offered in four belt widths: 1/8", 3/16", 1/4" and 3/8." Special belt widths are also available. The 24 standard sizes stocked have from 132 to 500 grooves per belt, with pitch lengths ranging from 10.56" to 40.00."

Availability is from stock. Detailed specifications are contained in Catalog D790, available free upon request from Stock Drive Products, 2101 Jericho Turnpike, P.O. Box 5416, New Hyde Park, NY 11042-5416. Phone: 516-328-3300 Fax: 516-326-8827 Web: http://sdp-si.com/Press/New/Belts2_4.htm

More from Construction Equipment and Supplies