Timing Belt Pulleys feature self-contained hub fastener.
Press Release Summary: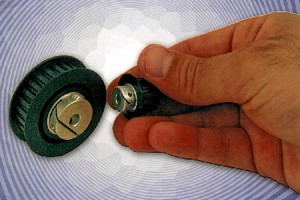 Available in double, single, or no flange styles, Series A 6H 3 consists of 1/5 in. pitch pulleys for 3/8 in. wide belts. Fairloc® integral hub fastening system facilitates phase adjustment, timing, position adjustment, and frequent removal problems while adding positive metal-to-metal fastening strength along entire width of pulley. Pulleys fit onto shafts from 3/16-3/8 in. diameter and have 10-72 grooves each.
---
Original Press Release:

New 6H 3 Series of 1/5" Pitch Timing Belt Pulleys from SDP Feature Superior Fairloc® Hub Fastening System



New Hyde Park, New York - A new series of 67, 1/5" Pitch timing belt pulleys, for 3/8" wide belts, manufactured by Stock Drive Products feature the patented Fairloc® integral hub fastening system. The choice of Fairloc® rotating component fastening system helps phase adjustment, timing, position adjustment and frequent removal problems while adding positive metal-to-metal fastening strength along the entire width of the pulley to reduce wobble or misalignment. It is compact, self-contained and offers a small pulley hub envelope.

The Fairloc® system consists of two slots that are machined into the aluminum hub, one orientated radially the other angularly, to create a transverse wedge which remains attached to the solid portion of the hub on one side. The resultant cantilevered clamping section has a tapped hole to accept a cap screw which passes through a clearance hole in the solid portion of the hub, and into a threaded hole in the transverse wedge section. As the screw is tightened, the cantilevered section clamps the shaft securely. The screw can be tightened and released repeatedly without marring the shaft or affecting its torque transmitting abilities. The design offers the best of both worlds - the economy of the over-molded black fiberglass reinforced Polycarbonate pulley plus the positive fastening characteristics of metal-to-metal contact.

Identified as the A 6H 3 Series, they are available from off-the-shelf stock in double, single or no flange styles. They are designed to fit onto shafts that range from 3/16" to 3/8" in diameter. The number of grooves per pulley ranges from 10 to 72. For current prices, look under Timing Belt Pulleys at: http://www.sdp-si.com/eStore/CoverPg/Pulleys.htm

Additional specifications for these A 6H 3 Series timing pulleys is contained in Catalog D790, available free upon requestfrom Stock Drive Products 2101 Jericho Turnpike. P.O. Box 5416 NewHyde Park-New York 11042-5416. Phone: 516-328-3300 Fax: 516-326-8827 Web: http://sdp-si.com/Press/New/Pulleys14_1.htm

More from Controls & Controllers