Timing Belt Pulleys feature integral hub fastening design.
Press Release Summary: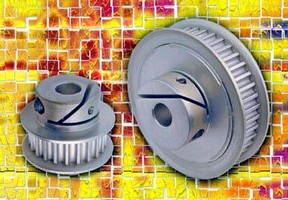 Made of clear anodized aluminum alloy, 3mm Pitch HTD® Series A 6D23 (inch) and Series A 6D23M (metric) are available in 10-44 grooves with bore sizes from .125-.250 in. and 3-6 mm. Outer diameters range from .346-1.624 in. and 8.8-41.4 mm. Fairloc® integral hub fastening design eliminates need for separate hub clamp devices and offers benefits of frequent position adjustment, while adding positive metal-to-metal fastening strength along entire hub surface.
---
Original Press Release:

New Series of 3 mm Pitch HTD® Timing Belt Pulleys



New Hyde Park, New York - A new series 3 mm Pitch HTD® aluminum timing belt pulleys for 6 mm (.236") belts manufactured by Stock Drive Products (an ISO 9001 manufacturer) feature the patented Fairloc® integral hub fastening design which eliminates the need for conventional separate hub clamp devices. Additionally, the choice of Fairloc® hubs offers the benefits of frequent position adjustment, while adding positive metal-to-metal fastening strength along the entire hub surface.

Identified as the A 6D23- (inch) and A 6D23M (metric) Series, these 34 HTD® pulleys are made of clear anodized aluminum alloy and are available from stock in 10 to 44 grooves. Bore sizes range from .125" to .250" in inch and 3 mm to 6 mm in metric. O. D.'s range from .346" to 1.624" in inch and 8.8 mm to 41.2 mm in metric. They are available in double flange type. SDP stocks a wide variety of other HTD® size pulleys in different materials and for different belt widths.

The Fairloc® integral hub fastener consists of two slots that are machined into the hub, one radially the other angularly, to create a transverse wedge which remains attached to the solid portion of the hub on one side. The resultant cantilevered clamping section has a tapped hole to accept a cap screw which passes through a clearance hole in the solid portion of the hub, and into a threaded hole in the transverse wedge section. As the screw is tightened, the cantilevered section clamps the shaft securely. The screw can be tightened and released repeatedly without marring the shaft or affecting its torque transmitting abilities.

Detailed specifications are contained in SDP Catalog D790 (Inch) and Catalog D785 (Metric) available free upon request from Stock Drive Products. This catalog can be viewed now on the Web at: www.sdp-si.com, or via mail request at: 2101 Jericho Turnpike, P.O. Box 5416, New Hyde Park, NY 11042-5416. Phone: 516-328-3300 Fax: 516-326-8827 Web: www.sdp-si.com

Company Name: Stock Drive Products/Sterling Instrument
Address 1: 2101 Jericho Tpke.
Address 2: P.O. Box 5416
City: New Hyde Park
State: NY
Zip: 11042-5416
Country: USA
Phone: 516-328-3300
URL: http://sdp-si.com/press/new/Fairloc6_4.htm

Contact Name: Herb Arum
Title: Marketing Manager
E-mail: cpratt@sdp-si.com

More from Electrical Equipment & Systems