Times Square Marriott EDITION Hotel Features Metalwërks' Custom Screenwall Assembly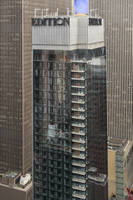 Unitized metal panels played a major role in the building's cladding and façade
KENNETT SQUARE, PA…Metalwërks® products are prominently featured at the new Marriott EDITION hotel located at 701 Seventh Avenue in Times Square, New York City.
Metalwërks created a custom engineered and vertically-oriented screenwall assembly designed to span floor to floor and to minimize structural attachment points, while resisting up to 45 pounds of pressure per square foot of positive and negative wind loads. The assembly was also crafted to make spans of up to 12' between the horizontal support steel members at the penthouse screen wall applications.
"701 Seventh Avenue enhances the Times Square entertainment and business district with new amenities, features, and a modern silhouette," says Stephen Scharr, Director of Business Development, Metalwërks. "The custom assemblies created by the Metalwërks team ensure structural integrity from the outside face of the cladding element to the primary building structure while adding to the building's distinctive appearance."
Metalwërks' unitized perforated aluminum screenwall panel assemblies were used on over 15,000 square feet of the structure, in addition to 10,000 square feet of
Omniplate™ 1500 cladding products, which formed the projecting balcony fascia, soffit, and cornice features at the public amenity spaces on levels 10 through 14.
The screenwall panels were comprised of a variety of components including a formed perforated face panel with 4" deep triangular shaped ribs, and a custom-made extrusion that spanned from top to bottom inside the ribs to serve as a panel stiffener. At the roof level, the same panel assemblies were used to conceal mechanical equipment at the the bulkhead.
"The entire Metalwërks team coordinated closely with Façade Technology and its project counterparts to ensure everything was installed accurately and to schedule," says Scharr.
Additionally, perforations were made in the aluminum face panels, which were specifically sized and spaced to allow for artificial lighting to permeate the façade. This enables the building to "glow" at night. For further visual interest, lighting features were added at a strip of panels which run from the 12th floor up to the roof, which creates a dramatic, vertical stripe of light up the façade itself.
Metalwërks also produced approximately 10,000 square feet of Omniplate 1500 barrier wall enclosures, which were incorporated into outdoor terraces that project from the building facade. These entertainment areas will be used for hospitality events that occur regularly in the building, or for public events like the New Year's Eve celebration in Times Square, or the Macy's Thanksgiving Day Parade.
One of Times Square's largest LED screens – covering 18,000 square feet – is also part of the brand-new 517-foot, 42-story hotel, which is situated in the heart of one of New York City's most famous landmarks. Located at 20 Times Square, the 452-key hotel also features a 5,000 square-foot performance space, a 1,900 square-foot studio, and a 5,800 square-foot rooftop beer garden and cabaret theater.
The Marriott Edition at 701 Seventh Avenue opened for business in February 2019. Witkoff, Ian Schrager Company, Winthrop Realty Trust, and Maefield Development were the developers, while Platt Byard Dovell White Architects (PBDW Architects) was the project's architect. Facades Technology LLC was responsible for completing a design-assist building envelope contract consisting of windows, wall cladding and air barriers, and decorative metal wall elements supplied by Metalwerks.
About Metalwërks:
Founded in 1968, Metalwërks is the leading U.S. manufacturer of precision high-performance metal plate exterior facade systems, integrated curtain wall components, and custom architectural features. The company works in close collaboration with top architects to achieve new levels of form and function in systems precision-manufactured from solid metal plate. Metalwërks is unparalleled in the quality, diversity, integrity and reputation of its systems, services, and employees. For more information, visit: www.metalwerksusa.com.
Contact: Miriam Lamey, LarsonO'Brien
Phone: 412-831-1959 x123 E-mail: [email protected]