Position Sensors / Detectors / Transducers
Tilt Switch replaces mercury and pendulum switches.
Press Release Summary: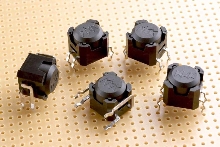 DS series combination tilt/sensor switch is through-hole, PCB mounted device that ensures reliability with use of photo interrupter contacts rather than traditional contacts. Switch measures 9 mm in height, length, and width, making it suited for high-density mounting. It is triggered when tilted beyond 30° in any direction and sealed construction protects switch from environmental elements.
---
Original Press Release:

NKK Switches Offers New Tilt/Sensor Devices


New DS Series Replaces Mercury, Pendulum Switches

Scottsdale, Ariz. (June 16, 2005) - NKK Switches, a forefront manufacturer of environmentally compatible components, has successfully designed and engineered a combination tilt/sensor switch, the DS series. These through-hole, PCB mounted devices are engineered to replace mercury and pendulum switches.

The remarkable design of the switch ensures high reliability with the use of photo interrupter contacts rather than conventional contacts. The compact dimensions of the DS switch at 9mm in height, length and width, make it ideal for high density mounting if required. In addition, the DS is unique in its sensitivity to small angle changes.

The DS contains two solid-state devices: an Infrared Light Emitting Diode and a photo transmitter. A bright nickel-plated ball rests at the focus point when the switch is level. The internal ball movement allows functionality of 360° circumference rotation. The switch is triggered when tilted beyond 30° in any direction.

The DS series features a sealed construction for protection from environmental elements, including hydrogen sulfide, sulfur dioxide and nitrogen hydroxide. It has a totally sealed body to allow process compatibility for automated soldering and cleaning. Terminals are made of ammonia resistant materials. They are crimped to ensure secure PCB mounting and to prevent dislodging during wave soldering.

The contactless tilt/sensor switch can be ordered with right angle or straight PC terminals, allowing design engineers flexibility in the mounting arrangements. The two configurations only differ in the placement of the terminals, as the ball always operates against gravity in the horizontal position.

The DS switches are well suited to meet product safety concerns due to the normally closed (on) status. They are particularly useful in gaming equipment, vending machines, industrial equipment, heating and fan equipment, alarm devices, sporting equipment, and medical applications.

A leading designer and producer of electromechanical switches, NKK Switches offers one of the industry's most extensive selections of illuminated, process sealed, miniature, specialty and surface mount switches. The company manufactures more than four million toggle, rocker, pushbutton, slide, rotary and DIP rotary, keypad and keylock switches. NKK Switches maintains a complete network of qualified representatives and distributors through the United States, Canada, Central and South America, Europe and Asia.

NKK Switches is keenly aware of the myriad of issues that are covered under the RoHS directive. With more than 50 years of experience in the switch industry and as an environmentally-conscious company, NKK is committed to not only providing high quality products and services, but also providing environmentally safe products for its valued customers. NKK continues to lead the industry in responding to the needs of the marketplace with innovation, high reliability and a commitment to excellence.

For more information, contact NKK Switches, 7850 E. Gelding Dr., Scottsdale, AZ 85260. Phone 480-991-0942. Fax 480-998-1435. Or visit the NKK Switches Web site at www.nkkswitches.com.

For more information contact:

Leah Holiman or Emily Butler (Martz Agency)....................................480-998-3154

Jann Sousa (NKK Switches)..........................................................480-991-0942

More from Electronic Components & Devices