TIG Torch Packages come with all welding necessities.
Press Release Summary: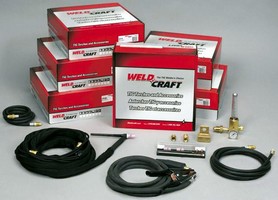 Four air-cooled TIG torch packages are available with rubber cables for applications from 150-200 A, while 2 water-cooled TIG torch packages are offered for applications up to 250 or 350 A. Each package contains 25 ft power cable and cable cover, power cable adapter, and 15 ft ground cable. Water and gas hoses are also provided, as required, along with Smith Equipment flow meter regulator and welding accessory kit with nozzles, collets, collet bodies, and tungsten.
---
Original Press Release:

New Weldcraft TIG Torch Packages Ease Ordering, Inventorying



APPLETON, Wis. 26 September 2006-Today Weldcraft announced the availability of six new TIG torch packages designed to ease ordering and inventorying by offering all the components necessary for TIG welding in one package. Weldcraft will offer four torch packages for air-cooled applications ranging from 150 to 200 amps and two water-cooled torch packages including either a 250- or a 350-amp torch.

All You Need, One Complete Package

To complement a wide range of TIG power sources and applications, Weldcraft TIG torch packages are available with WP17, W17VR, WP26 or WP26VR air-cooled TIG torches with rubber cables. Packages featuring the company's WP18MR and WP20MR water-cooled TIG torches with flex cables are also available for higher amperage applications. Each torch package has one part number to ease ordering and inventory of multiple TIG welding components.

In addition, the torch packages each contain a 25-ft. power cable and cable cover, a power cable adapter (when required) and a 15-ft. ground cable. Weldcraft also provides water and gas hoses (as required), a Smith Equipment flow meter regulator and a welding accessory kit featuring additional nozzles, collets, collet bodies and tungsten in every torch package.

"At Weldcraft, we think it is important to make the job of welding and doing business with us as easy as possible," explains Mike Sammons, sales and marketing manager, Weldcraft. "Our new torch packages do just that-welding operators get everything they need in one package by ordering just one part number. That saves time and money."

Sammons adds that Weldcraft also provides a complementary TIG welding handbook in each torch package. The TIG welding handbook outlines the fundamentals of operating TIG power sources, provides information on welding preparation, electrodes and consumables, and features important welding safety recommendations.

For more information, contact Weldcraft at 800-752-7620 or 920-882-6800; fax: 920-882-6840; visit weldcraft.com; e-mail customerservice@weldcraft.com or write to Weldcraft Customer Service, 2741 N. Roemer Road, Appleton, WI 54911.

Weldcraft is the world's leading manufacturer of GTAW (TIG) welding torches and accessories. A broad line of premium products includes the unique Crafter Series, Legacy(TM) Series, MicroTig,(TM) Quick Connect System,(TM) WP Series, and Single Piece Collet/Collet Body. Weldcraft is a wholly owned subsidiary of Illinois Tool Works Inc. (ITW), Glenview, Ill. ITW is a diversified multinational manufacturer of highly engineered components, assemblies and systems.

More from Printing & Duplicating Equipment