TIG Torch features flexible neck for difficult joints.
Press Release Summary: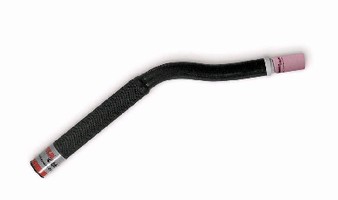 Offering 200 A capacity, water-cooled Model WP-25 has flexible neck that bends in any direction, helping operators gain access to difficult joints or confined areas. Pencil-style torch features lightweight body to optimize operator comfort. Various accessories include cable covers that help protect against worksite damage, extension kits, and power cable adaptors.
---
Original Press Release:
Weldcraft Offers TIG Torch for Higher-Amperage Welding on Confined Joints
-Flexible neck bends in any direction -200 amp water-cooled capacity APPLETON, Wis. 28 May 2008-To help welding operators gain the access necessary to TIG weld on difficult joints or in confined areas, Weldcraft offer its WP-25 flexible neck, water-cooled TIG torch. The WP-25 is a pencil-style torch that offers 200-amp capacity and features an efficient cooling design that minimizes downtime from overheating. The torch's flexible neck bends in any direction to allow access in hard-to-reach areas and its compact, lightweight torch body design also improves operator comfort. A variety of accessories are available to complement the WP-25 torch including cable covers that help protect against worksite damage, extension kits and power cable adaptors. Front-end parts (including collet, collet body, gas lenses and nozzles) are interchangeable with WP-9 Series air-cooled torches and WP-20 Series water-cooled torches. For more information, contact Weldcraft at 800-752-7620 or 920-882-6800; fax: 920-882-6840; visit weldcraft.com; e-mail customerservice@weldcraft.com or write to Weldcraft Customer Service, 2741 N. Roemer Road, Appleton, WI 54911. Weldcraft is the world's leading manufacturer of GTAW (TIG) welding torches and accessories. A broad line of premium products includes the unique Crafter Series, Legacy(TM) Series, MicroTig,(TM) Quick Connect System,(TM) and WP Series.