TIG Torch facilitates high frequency shielding.
Press Release Summary: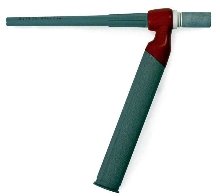 Water-cooled, Crafter Series(TM) 310 A Model CS310 features D-Handle(TM) design with self-indexing flat top that allows operator to orient torch by feel. ColorSmart(TM) color-coded hose sets help welding operators identify input water, return water/power cable, and gas. Reinforced rubber cable assembly offers flexibility in cold weather. Available with 12.5 and 25 ft cables, torch comes weld-ready with Weldcraft 13N series front-end parts.
---
Original Press Release:

Weldcraft CS310 Water-Cooled TIG Torch Increases Reliability


-Reduces cost of operation
-Increases flexibility in cold weather
-Improves high frequency shielding

BURBANK, Calif. August 1, 2005-To increase reliability on high amp applications, Weldcraft introduces the state-of-the-art CS310, 310 amp water-cooled TIG torch. Part of the Crafter Series(TM) the CS310 torch defines a new standard in performance by increasing amperage output, not torch size.

Engineered for the professional welder, the CS310 improves handling for a variety of applications. The D-Handle (TM) design offers a self-indexing flat top that allows the operator to orient the torch by feel, while improving overall torch control. The CS310 has ColorSmart(TM) color-coded hose sets that help welding operators quickly identify input water (blue hose), return water/power cable (red hose) and gas (black hose) to provide more efficient torch package installation on select welding machines. With its reinforced rubber cable assembly, the CS310 offers greater flexibility, especially in cold weather.

Mike Sammons, business development manager for Weldcraft, explains, "Weldcraft engineered the CS310 for the professional welder who is looking for TIG torch innovation on every level. Compared to the forty-year-old design of most water-cooled torches, this high performance torch is an advancement in TIG torch design. You can get higher amperages out of the CS310, without increasing your torch size."

The torch comes weld-ready with Weldcraft 13N series front-end parts to assure maximum performance and is available with 12.5- and 25-ft. cable lengths.

For more information, contact Weldcraft at 800-752-7620 or 818-846-8181; fax: 818-845-1542; visit weldcraft.com; e-mail customerservice@weldcraft.com or write to Weldcraft Customer Service, 119 E. Graham Place, Burbank, CA 91502.

Weldcraft is the world's leading manufacturer of GTAW (TIG) welding torches and accessories. A broad line of premium products includes the unique Crafter Series, MicroTig,(TM) Quick Connect System,(TM) WP Series, Single Piece Collet/Collet Body and HPN Nozzles. Weldcraft is a wholly owned subsidiary of Illinois Tool Works Inc. (ITW), Glenview, Ill. ITW is a diversified multinational manufacturer of highly engineered components, assemblies and systems.