TI's WEBENCH® Tools Export Power and LED Lighting Designs to Industry-Leading CAD Development Platforms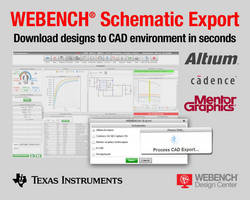 ELECTRONICA, MUNICH – Texas Instruments Incorporated (TI) (NASDAQ: TXN) today unveiled WEBENCH® Schematic Export, a new online tool that exports analog designs from TI's WEBENCH Design Center to industry-leading computer-aided design (CAD) development platforms from Cadence Design Systems, Inc., Mentor Graphics and Altium. For more information or to start a design, visit www.ti.com/webenchex-pr .



WEBENCH Schematic Export will be demonstrated in TI's booth #420 in Hall A4, at the Electronica trade show in Munich, Germany, November 13-16.



Engineers worldwide have used TI's award-winning WEBENCH tools to quickly create more than two million designs cost-free since its introduction by National Semiconductor in 1999. While the tools dramatically simplified and sped the design process, the time for engineers to export a design to their licensed CAD development platform was tedious and time-consuming. Developed by TI, and in cooperation with the makers of the CAD development platforms, WEBENCH Schematic Export now enables the engineer to instantly export these dynamically created power and LED lighting designs to a variety of platforms, such as Cadence OrCAD Capture CIS, Mentor Graphics DxDesigner and Altium formats such as Altium Designer. Watch a video at www.ti.com/webenchex-prv .



"Engineers know that TI's WEBENCH tools considerably reduce the time to create power and LED lighting designs," said Chris Donato, Altium Sales Director, Americas. "With the addition of WEBENCH Schematic Export, the engineer no longer needs to manually enter the design into the CAD platform, nor is there a need to worry about errors made in the process. Now, designs created with WEBENCH Schematic Export easily and expertly convert to Altium Designer in seconds."



Key features of WEBENCH Schematic Export:

• A designer can quickly optimize and export a power supply design created with TI's WEBENCH Power or LED Designer or a complete power supply system created with WEBENCH Power or LED Architect via WEBENCH Schematic Export to one of five CAD development platforms.

• Design performance can be simulated in WEBENCH Designer and Architect prior to export.

• WEBENCH Schematic Export is supported with schematic symbols for more than 30,000 components.



Find out more about TI's WEBENCH suite of tools:

• Design a complete system with TI's WEBENCH tools: www.ti.com/webench-pr .

• Ask questions and share knowledge in the WEBENCH Design Center forum in the TI E2E™ Community: www.ti.com/e2ewebench-pr.



About WEBENCH tools from Texas Instruments

The WEBENCH Designer and Architect component libraries include more than 30,000 components from 120 manufacturers. Price and availability is updated hourly by TI's distribution partners for design optimization and production planning. Offered in eight languages, the user can compare complete system designs and make supply chain decisions in minutes. To start a cost-free design, visit TI's WEBENCH design environment at www.ti.com/webench-pr .



About Texas Instruments

Texas Instruments semiconductor innovations help 90,000 customers unlock the possibilities of the world as it could be – smarter, safer, greener, healthier and more fun. Our commitment to building a better future is ingrained in everything we do – from the responsible manufacturing of our semiconductors, to caring for our employees, to giving back inside our communities. This is just the beginning of our story. Learn more at www.ti.com .



Trademarks

WEBENCH is a registered trademark and TI E2E is a trademark of Texas Instruments. All other trademarks belong to their respective owners.





More from Agricultural & Farming Products