TI Adds RF Gain Blocks, Mixers and Modulator to Product Lineup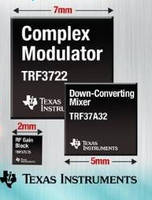 New high-performance RF building blocks are optimized for power and performance



DALLAS, -- Texas Instruments (TI) (NASDAQ: TXN) expanded its RF portfolio today with the addition of high-performance RF gain blocks, down-converting mixers and a complex modulator that provide the industry's best combination of power and performance. The new RF devices are being demonstrated this week in TI's booth (#2041) at the International Microwave Symposium and complement TI's existing portfolio of transmit digital-to-analog converters (DACs), receive analog-to-digital converters (ADCs), IQ modulators, IF DVGAs, phase-locked loop (PLL) and RF synthesizers. For more information about the new RF gain blocks, down-converting mixers and complex modulator, visit www.ti.com/rfgainblocks-pr,  www.ti.com/downconvertingmixers-pr  and www.ti.com/complexmodulator-pr.



RF gain blocks

The new 3.3-V and 5-V RF gain block family offers a unique combination of broad frequency range, small footprint, high integration, high output 3(rd) intercept point (OIP3) and low power consumption to maximize design flexibility. The versatile devices can be used in many industrial, communications and defense applications, such as smart meters, test and measurement, wireless base stations, RF backhaul, repeaters, and phased-array radar.



Key features and benefits



--  Broad frequency range: Broadband matched across a wide operational range of 1 MHz to 6 GHz enables system designers to use the same gain block at RF and IF frequencies.

--  Small package, high integration for reduced footprint and bill of material costs:




2-mm by 2-mm QFN package saves board space



Integrated power down eliminates need for an external switch, which reduces bill of materials cost and saves board space.



--  High linearity: Provides 10-dB higher OIP3 than comparable 3.3-V RF gain blocks with an integrated power down, enabling the devices to be used in a wide variety of application circuits.

--  Low power consumption: 3.3-V gain blocks use only 180 mW of power and the 5-V devices use 400 mW to increase efficiency.

--  Pin-compatible: 3.3-V and 5-V supply options in 12-dB, 15-dB, 18-dB and 20-dB gains.



Tools, pricing and availability

The new RF gain block family includes the following devices:







Device



Supply voltage



Gain
(typical)



Device price
(1,000-unit)



Evaluation module
(EVM)
 





TRF37A75



5 V



12 dB



US$0.95



TRF37A75EVM





TRF37B75



5 V



15 dB



US$0.95



TRF37B75EVM





TRF37C75



5 V



18 dB



US$0.95



TRF37C75EVM





TRF37A73



3.3 V



12 dB



US$0.90



TRF37A73EVM





TRF37B73



3.3 V



15 dB



US$0.90



TRF37B73EVM





TRF37C73



3.3 V



18 dB



US$0.90



TRF37C73EVM





TRF37D73



3.3 V



20 dB



US$0.90



TRF37D73EVM





    

The 5-V devices are available now, and evaluation modules (EVMs) are available for purchase today for US$49. The 3.3-V gain blocks will be in volume production in July 2014, and EVMs will be available for purchase later this month.



Down-converting mixers

High performance, multi-channel receiver applications value high linearity, gain and wide tuning flexibility at the lowest power consumption. The new dual-channel down-converting mixer family matches the performance of existing solutions at half the power consumption. The mixers can be used in diversity receive, multi-antenna and high-performance applications, such as phased-array radar, wireless base stations, RF backhaul and repeaters, and test and measurement.



Key features and benefits:



--  Wide tuning range: Family supports 300 MHz to 3800 MHz, providing pin-compatible coverage of frequently used bands, such as L-band and 3GPP cellular.

--  High signal quality: Provides 29-dBm input 3(rd) order intercept point (IIP3), 10-dB gain and 9.5-dB noise figure in high-performance receiver applications.

--  Best-in-class power consumption: Uses only 500 mW of power per channel, providing lower operational and cooling costs.



Tools, pricing and availability

The new down-converting mixer family will be available in 3Q 2014 in a 5-mm by 5-mm QFN package and includes the following devices and EVMs:







Device



Frequency



Device price
(1,000-unit)



EVM



EVM price





TRF37A32



 300-1400 MHz



US$9.98



TRF37A32EVM



US$199





TRF37B32



500-3300 MHz



US$10.98



TRF37B32EVM



US$199





TRF37C32



2000-3800 MHz



US$11.98



TRF37C32EVM



US$199







Complex modulator

High-performance transmitters require an optimized combination of power, linearity, phase noise and frequency range. The TRF3722 complex modulator provides the best combination of these features and can be paired with the new down-converting mixers in high-performance applications, such as phased-array radar, wireless base stations, RF backhaul and repeaters, and test and measurement.



Key features and benefits:



--  Wide tuning range at high performance: Integrates a PLL/VCO with a wide 256-MHz to 4100-MHz tuning range and a -141-dBc/Hz phase noise at 1-MHz offset, enabling it to meet the requirements of all 3GPP cellular bands.

--  High-quality modulator: Provides 30-dBm OIP3 to support the spectral mask requirements of the most demanding communication systems.

--  Low power consumption: Uses only 1.2 W of power in typical applications and 0.9 W in low-power mode.



Tools, pricing and availability

The TRF3722 up-converting complex modulator will be available later this month in a 7-mm by 7-mm QFN package for US$9.50 in 1,000-unit quantities. An EVM will be available to purchase in early June for US$199.



TI at International Microwave Symposium

Going to International Microwave Symposium (IMS) June 3 to 5 in Tampa, Fla.? Visit TI at booth 2041 to see our latest high-performance data converters, amplifiers, modulators, mixers, RF gain blocks, PLL/VCOs and clock jitter cleaners for wideband receive and transmit applications ranging from wireless base stations and defense electronics to test and measurement. Find more information and follow TI's IMS activities here.



About Texas Instruments

Texas Instruments Incorporated (TI) is a global semiconductor design and manufacturing company that develops analog ICs and embedded processors. By employing the world's brightest minds, TI creates innovations that shape the future of technology. TI is helping more than 100,000 customers transform the future, today. Learn more at www.ti.com.



Trademarks

TI E2E is a trademark of Texas Instruments. All other trademarks and registered trademarks belong to their respective owners.



Web Site: http://www.ti.com







Related