Silicon Controlled Rectifiers (Thyristors)
Thyristors protect DSL hardware in broadband applications.
Press Release Summary: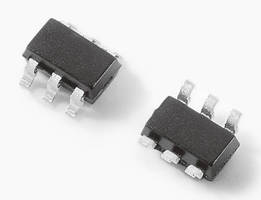 Supplied in SMT SOT23-6 packages, DSLP Biased Series SOT23-6 SIDACtor® Protection Thyristors (DSLPxxxxT023G6) provide overvoltage protection for broadband communications applications with minimal effect on data signal integrity. EpiSCR silicon crowbar technology provides capacitive loading characteristic suited for high-bandwidth applications and surge performance up to 35 A (8/20 µsec). Flow-through lead frame design conserves circuit board real estate and minimizes trace layout routing.
---
Original Press Release:

Littelfuse Introduces DSLP Biased Series SIDACtor® Thyristors for Broadband Optimized(TM) Protection of DSL Hardware



Provides protection sufficient for even the most severe exposure G.fast applications in a compact SOT23-6 package



CHICAGO – Littelfuse, Inc., the global leader in circuit protection, has introduced DSLP Biased Series SOT23-6 SIDACtor® Protection Thyristors (DSLPxxxxT023G6), designed to provide overvoltage protection superior to other market solutions for broadband communications applications with minimal effect on data signal integrity. Patented EpiSCR silicon crowbar technology provides a capacitive loading characteristic that's ideal for use in high bandwidth applications. This technology also provides robust surge performance up to 35A (8/20µs). The compact SOT23-6 package with its flow-through lead frame design conserves valuable circuit board real estate and minimizes trace layout routing.



Typical applications for the DSLPxxxxT023G6 Series SIDACtor Protection Thyristors include tertiary and line driver side protection for digital subscriber line (DSL) equipment compliant with HD-SDI, HD-CVBS, VDSL2, ADSL2, ADSL2+, and G.fast data transmission standards.



"Broadband equipment compliant with the G.fast data transmission standard is designed for use on phone lines within 250 meters of a distribution point, allowing telecommunications companies to avoid the need to install fiber on the proverbial "last mile" but still offer fiber-like speeds to many more residential subscribers," said Jeff Chin, global product marketing manager, SIDACtor Protection Thyristors. "The superior electrical performance the DSLPxxxxT023G6 Series provides gives telecom equipment circuit designers the opportunity to upgrade their circuit protection in existing design footprints, even for products already in production."



The DSLPxxxxT023G6 Series SIDACtor Protection Thyristors offers these key benefits:

Superior performance in surge capability (min. 30A, typ. 35A@8/20µS, typ. 15A@ 5/310µS) than other market solutions without compromising high data rate signal integrity. This level of protection is sufficient for even the most severe exposure G.fast applications (including GR-1089 Issue 6 inter-building requirements and ITU K20/21/45 Enhanced external line recommendations).

Low off-state capacitance (2.5pF max.) that provides low insertion loss and less distortion, particularly in higher data rate signals.

Flow-through layout reduces the impedance mismatching "stub-effect" caused by non-"flow-through" printed circuit board trace connections and simplifies printed circuit board design.

Better immunity to AC power cross issue compare to existing industrial clamping technology.

Many voltage options of 8/12/18/24/36 volts are available for easy design to fit various drivers.

Standard SOT23-6 package for compatible foot print design.



Availability

DSLPxxxxT023G6 Series SIDACtor® Protection Thyristors are provided in compact surface-mount SOT23-6 packages and sold in quantities of 3,000 on tape and reel packaging. Sample requests can be placed through authorized Littelfuse distributors worldwide. For a listing of Littelfuse distributors, please visit http://www.littelfuse.com/contactus.aspx.



For More Information

Additional information is available on the DSLPxxxxT023G6 Series product page. If you have technical questions, please contact: Jeff Chin, global product marketing manager, SIDACtor Protection Thyristors, JChin@littelfuse.com.



About Littelfuse

Founded in 1927, Littelfuse is the world leader in circuit protection with growing global platforms in power control and sensing. The company serves global customers in the electronics, automotive and industrial markets with technologies including fuses, semiconductors, polymers, ceramics, relays and sensors. Littelfuse has over 8,000 employees in more than 35 locations throughout the Americas, Europe and Asia. For more information, please visit the Littelfuse website: Littelfuse.com.



Media Contact:

Rhonda Stratton

Global Marketing Communications Manager

Electronics Products

Littelfuse, Inc.

773-628-0644

rstratton@littelfuse.com

https://twitter.com/littelfuse





More from Mechanical Components and Assemblies