Silicon Controlled Rectifiers (Thyristors)
Thyristor provides high surge current protection.
Press Release Summary: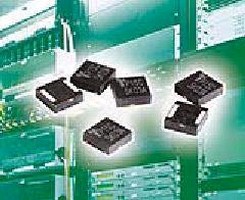 Housed in QFN package with footprint of 3.3 x 3.3 mm and 1 mm height, Q2L Series C-Rated SIDACtor Thyristor offers surge rating of 500 A 2 x 10 µs and provides bidirectional transient voltage protection. Unit is equipped with leads on bottom to address creepage and clearance requirements of UL/EN 60950, providing routing of traces on PCB. Device is RoHS-compliant and has surge withstand capability to comply with coordination requirements of GR-1089-CORE.
---
Original Press Release:

Littelfuse Introduces the World¹s Smallest High Surge Current Protection Thyristor



Littelfuse introduces the world's smallest high surge current protection thyristor:
The Teccor® Q2L series 'C-Rated' SIDACtor® device.

DES PLAINES, Illinois, August 1, 2006 - Littelfuse, Inc. (Nasdaq/NMS: LFUS) introduces the Q2L series C-Rated SIDACtor device. With a footprint of only 3.3x3.3mm and only 1mm in height, it is the smallest protection thyristor in the telecom protection market to provide such a high level of surge protection - boasting a surge rating of 500A 2x10µs. Its small package QFN (Quad Flatpak No-Lead) is ideal for dense board applications such as line cards and other multi-channel telecommunications equipment.

The Q2L series C-Rated SIDACtor device provides exceptional bidirectional transient voltage protection and offers a wide range of Ipp ratings, including 200A for 5x310/10x700µs event (ITU/YDT waveform), 100A for 10x1000µs event (GR 1089 waveform) and 150A for 10x560µs event (TIA-968-A).

With proven Teccor brand SIDACtor technology and an innovative design, the C-Rated version is truly in a class by itself. This unique device is equipped with leads on the bottom to address the creepage and clearance requirements of UL/EN 60950, providing more efficient routing of traces on the PCB (Printed Circuit Board). Its low clearance also makes it possible to be used on the "back-side" of the PCB, saving space and allowing for additional board size reduction.

As an added advantage, the C-Rated SIDACtor device is extremely durable, delivering exceptional performance in applications exposed to the environment, including remote terminals, loop extenders, wireless remote sites, repeater sites and many more.

The Q2L series C-Rated SIDACtor device is RoHS compliant, UL Recognized and has the surge withstand capability to comply with the coordination requirements of GR-1089-CORE. It is also compliant with: GR 1089-CORE first and second level lighting surges, ITU K.20 and K.21 Basic and Enhanced lighting surges, UL/EN 60950 Impulse test conditions, YD/T 993-1998, and IEC 61000-4-5. Best of all, when used with the TeleLink® fuse, it achieves extensive compliance without requiring an additional series resistor, thereby maximizing design efficiency and eliminating additional costs. For more information, please visit www.littelfuse.com.

About the Q2L series
The Q2L series consists of A, B and C-rated versions. The A and B-rated versions are suitable for applications requiring less robust protection. Compared to DO-214AA solutions, the Q2L series offers a 51% reduction in height profile (1.0 mm height on PCB). Additionally, the A and B versions require a 54% smaller footprint and the C-rated version requires a 45% smaller footprint in comparison to the industry standard DO-214AA SIDACtor device. The savings in PCB real estate will help design engineers meet the market demand for application size reduction and increased protection without increasing the form factor of the application.

The Q2L series features a small package, making it ideal for dense board applications such as line cards, DSLAMs, multi-channel E1/T1/J1 cards and other telecommunication equipment.

About Littelfuse
As the worldwide leader in circuit protection products and solutions with annual sales of $467.1 million in 2005, the Littelfuse portfolio is backed by industry leading technical support, design and manufacturing expertise. Littelfuse products are vital components in virtually every product that uses electrical energy, including automobiles, computers, consumer electronics, handheld devices, industrial equipment and telecom/datacom circuits. Littelfuse offers Teccor®, Wickmann® and Pudenz® brand circuit protection products. In addition to its Des Plaines, Illinois, world headquarters, Littelfuse has sales, distribution, manufacturing and engineering facilities in Brazil, China, England, Germany, Hong Kong, India, Ireland, Japan, Korea, Mexico, the Netherlands, the Philippines, Singapore, Taiwan and the U.S.

More from Agricultural & Farming Products