Through Hole Machines offer manual loading.
Press Release Summary: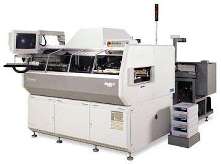 CE-approved Generation 8 axial and radial inserters replace older, manually loaded machines, allowing manufacturers to keep current manufacturing processes and use existing inventory of PCB workboard holders without requiring modifications. Offering CE safe operation for maintenance technicians and operators, machines provide production and machine performance management information for instant performance/process feedback.
---
Original Press Release:

Universal Announces "European Market" Through Hole Products


New CE-Approved Products Address Lower Volume Through Hole Market

Binghamton, NY, March 21. 2003- Universal Instruments announces the development of its new line of CE compliant Generation 8 axial and radial inserters that offer manual loading, in addition to greater throughput and reliability. These new machines are specifically designed to replace older, manually loaded machines that due to age, tend to be slow and unreliable.

Previously, European electronics manufacturers who did not wish to change their manufacturing process from manual load, stand-alone through hole machines to an automated process had no alternative than to continue running older, less reliable insertion equipment due to a lack of available CE compliant machines. Often, several of these older machines are being used to meet production requirements. Universal's new equipment now enables manufacturers to remove several old machines and replace them with one new machine while maintaining the same manufacturing process to which they are accustomed.

Universal Instruments' Generation 8 axial and radial inserters offer several benefits, which include the following:

o Allows manufacturers to keep their current manufacturing process, thereby eliminating the retraining of their production staff, the expense of purchasing magazines, and the trouble of changing their floor layout

o Enables use of existing inventory of PCB workboard holders without requiring modifications

o Offers CE safe operation for maintenance technicians and operators

o Provides production and machine performance management information at the click of a mouse for instant performance/process feedback

o Reduces investment costs for new, replacement machines compared to the previous solution of fully automated PCB handling

o Requires much less floor space compared to fully automated PCB handling machines

o Offers excellent performance with low-volume/high-changeover products that are so popular with through hole technology driven designs

o Significantly increases customers' productivity over their existing aged fleet of manual load machines; in many cases one new machine can replace three to four older machines

o Decreases overall cost of ownership compared to existing, old manual load machines due to the significantly higher throughput levels and lower maintenance requirements of the newer Generation 8 products

"Thanks to this new development, as well as the significantly higher throughput and machine reliability of the Generation 8 through hole products, the new CE manual load axial and radial products offer best-in-class technology without turning a customer's factory upside down to achieve it," says Marty Saracino, Universal Instruments' through hole product manager. He adds, "The result is higher throughput, greater machine utilization, and modernization of the factory to today's standards while positioning customers for through hole insertion continuance."

Universal offers a complete line of through hole products for every market, from high volume/low mix to low volume/high mix, as well as mixed technology that combines surface mount and through hole in the same process line.

About Universal Instruments Corporation
Universal Instruments is a global electronics productivity specialist, providing innovative circuit, semiconductor, and back-end assembly technologies and equipment, integrated system solutions, and process expertise to manufacturers in every sector of the electronics industry.

For more information about Universal Instruments' new CE manual load machines, please contact your local Universal office or our corporate office:

Post Office Box 825
Binghamton, New York, 13902-0825
1-800-432-2607
fax: 1-607-779-4510
E-mail: universal@uic.com

Universal contact
Karen Moore Watts
UIC
PO Box 825
Binghamton
NY 13902-0825
USA
Tel: +1 607 779 4079
Email: moore@uic.com
www.uic.com

Related