Through-Belt Conveyor Blast System features gun oscillation.
Press Release Summary: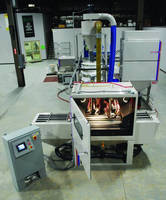 To reduce number of nozzles required for uniform coverage and lower compressed air requirements, TR-900 is offered with oscillator to provide reciprocating motion of blast guns. Components are conveyed in/out of blast chamber via rubber or steel mesh belt that may be fitted with guide rails, cleats, or part-holding fixtures. Accommodating single- or multiple-lane media-blast treatment, system supports up to 14 blast guns and offers adjustable (0 to ~20 fpm) conveyor belt speed.
---
Original Press Release:

Conveyor Blast Machine with Gun Oscillation



Saratoga Springs, NY - Guyson Corporation now offers its Model TR-900 through-belt conveyor blast systems with an oscillator to provide reciprocating motion of the blast guns, reduce the number of nozzles required for uniform coverage and lower the blasting machine's compressed air requirements.

In the pass-through TR-900 finishing system, components are conveyed in and out of the blast chamber by a rubber or steel mesh belt, which may be fitted with guide rails to ensure the parts are properly aligned for single or multiple lane media-blast treatment. The belt can also be made with cleats or part-holding fixtures attached to orient the components. Conveyor belt speed is adjustable from zero to approximately twenty feet per minute. The stroke length and speed of the gearmotor-driven oscillation mechanism can be adjusted and synchronized with the belt feed rate.

Up to 14 blast guns are rigidly mounted on multi-adjustable brackets at the correct angles and distances to direct their blast stream onto targeted component surfaces. After impinging on the processed parts, blast media particles are collected in a hopper at the base of the finishing enclosure, fed into return ducts and pneumatically conveyed to the inlet of the system's cyclone separator and media reclaimer, where dust and fines are removed from circulation and effective-sized media are channeled back to the blasting guns. The track extensions on the in- and out-feed ends of the machine are fitted with vacuum return catch trays to reclaim media carried out of the blast chamber. A full width side-hinged door provides access for gun inspection, adjustment and maintenance.

The TR-900 conveyor blast system may be used with a wide variety of blast media, so it is suitable for many different in-line impact treatment applications, including deburring, deflashing, surface preparation and cosmetic finishing. When components must be finished on all sides in a single pass, the machine can be configured with an alternate routing of the conveyor belt to permit positioning of fixed or oscillating blast guns under the component, however, only parts of a certain minimum length can be processed in the "S-belt" version of the machine.

An energy-saving option for the TR-900 is the addition of an electronic sensor to detect the presence of components on the in-feed conveyor and signal the programmable logic controller (PLC) to activate the blast guns. When the feeding of parts is interrupted, the blast guns can be turned off automatically. Another popular option for continuous production with the through-belt conveyor blasting machine is media level sensing with automatic blast media replenishment.

All settings and control functions are accessed using via a compact touch-screen interface that is normally mounted on a freestanding console electrical enclosure. The touch-screen panel also displays data on monitored blast process parameters and system status indicators, including faults such as a full dust drum or low air supply pressure.

Prospective users of automated or conveyorized blasting equipment are encouraged to submit sample components for free laboratory testing and application engineering evaluation at the blast machine builder's factory in northeastern New York State.


More from Electrical Equipment & Systems