Throttle Trip Valves are ANSI rated.
Press Release Summary: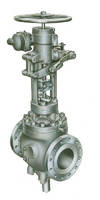 Combining flow control and emergency shut-off operation in single assembly, Throttle Trip Valves can be manufactured with soft packing, hardened leak-off bushings, and various materials for critical applications. As throttle valves, units regulate flow of steam and gas in large, high-pressure pipe lines. When used as trip valves, they add measure of safety critical to these applications. Valves rapidly shut down flow when tripped manually or automatically to protect valuable equipment.
---
Original Press Release:

Throttle Trip Valves



Fig. 8910 and Fig. 8950 Throttle Trip Valves provide effective flow control and emergency shut-off operation in a single, highly reliable valve assembly. As throttle valves, they are used to regulate flow of steam and gas in large, high-pressure pipe lines, such as the main steam line serving a large, high-pressure turbine or a turboexpander gas supply line. As trip valves, they add a measure of safety critical to these applications, without the expense of a separate trip valve. When tripped either manually or automatically, the valves rapidly shut down flow to protect valuable equipment.



S&K throttle trip valves are available in a variety of configurations for suitability to your application requirements. In addition, they can be manufactured with soft packing, hardened leak-off bushings, and various materials for critical applications. Complete physical testing offered by S&K includes hydrostatic and pneumatic testing as well as magnetic particle (magnaflux) and radiographic (xray) inspection. All models are ANSI rated.



Schutte & Koerting serves the chemical, petroleum, petrochemical, food, pulp and paper, power, metal, refining, water and waste treatment industries among others with its process and power equipment. In addition to check valves, its products include condensers, jet ejectors, degassing systems, gas scrubbers, and desuperheaters.



For more information, contact Schutte & Koerting, 2510 Metropolitan Drive, Trevose, PA 19053.

Tel.: (215) 639-0900

Fax: (215) 639-1597

Internet: www.s-k.com

Email: sales@s-k.com

More from Fluid & Gas Flow Equipment