Three of NewAge® Industries' Most Popular Tubing Lines Reach Anniversary Milestones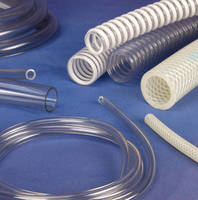 Longevity Attests to Products' Reliability & Usefulness

Southampton, Pa. - Fifty years is a long time for a product to be in existence. NewAge's Clearflo® PVC tubing was introduced in the spring of 1962, and the company is pleased to note its 50th anniversary. Clearflo is now used for fluid and air transfer and for protective jacketing, just as it has been for the past five decades.

Two other products from NewAge Industries, Newflex® reinforced PVC hose and Silbrade® reinforced silicone hose, have also reached special occasions, namely 25th anniversaries. Introduced in 1987, they too serve a function similar to Clearflo, although their market focus differs.

As with most of NewAge's tubing and hose, the catalyst for these products was customer need. The company had been offering Nylobrade® reinforced PVC hose for several years but found that customers did not always need such a robust hose - something without the braid reinforcement would do. Clearflo clear, unreinforced PVC tubing became part of the company's offering. It could (and still does) handle many of Nylobrade's applications, such as water and fluid feeds, chemical transfer, food and beverage handling, lines for instrumentation and pneumatics, and medical device components, but without the extra weight and expense of polyester braid reinforcement for higher pressure carrying capabilities.

Newflex offers a different kind of reinforcement. It gets its added strength from PVC material spiraled within its tubing walls, making it an ideal lightweight, corrosion-resistant hose for both positive and negative pressure applications. The spirals also enhance the product's flexibility and help prevent kinking. Three styles - light, standard, and heavy duty - are available, and two grades are offered: food, made from ingredients that conform to FDA and 3-A standards, and industrial.

Silbrade, the company's braid reinforced silicone hose, meets application needs in the industrial, food, and medical device industries. Offering features unlike PVC - temperature usage up to 350°F / 176°C, extreme flexibility, and ozone and U.V. resistance - Silbrade is used in beverage service, hot filling, resin and adhesive feeds, and other fluid-related applications, as well as oxygen and respirator lines and computer chip handling.

All three products are made in the U.S.A. and well stocked. Sizes range from 1/16" through 4" I.D. NewAge also offers a wide variety of fittings and clamps to mate with Clearflo, Newflex, and Silbrade.

For more information on NewAge's Clearflo, Newflex or Silbrade tubing, contact the Fluid Transfer Specialists® at NewAge Industries, Inc., 145 James Way, Southampton, PA 18966; phone 800-506-3924 or 215-526-2300; fax 800-837-1856 or 215-526-2190; e-mail: info@newageindustries.com; or visit these product-specific web pages: www.newageindustries.com/clearflo-clear-pvc-tubing.asp, www.newageindustries.com/newflex.asp, http://www.newageindustries.com/silbrade-silicone-hose.asp.

About NewAge Industries and AdvantaPure®
In business since 1954, NewAge Industries manufactures and fabricates thermoplastic and thermoset tubing in both reinforced and unreinforced styles. The company offers an overall product quality rating of 99.7%, provides extensive custom extrusion and fabrication capabilities, and services customers worldwide. NewAge Industries maintains a large inventory and prides itself on same-day shipment of 99% of orders for its core product lines. In 2006, NewAge initiated an ESOP (Employee Stock Ownership Plan) for the benefit of both its employees and customers.

The AdvantaPure division of NewAge Industries is ISO 9001:2008 certified and specializes in high purity tubing, hose, single use systems, manifolds, and other molded components for the pharmaceutical, biomedical, food, beverage, and chemical industries. All products are manufactured, stored, and shipped using the cleanest methods possible to ensure unsurpassed product purity. RFID systems, including gamma-irradiatable tags and labels, are offered by NewAge's new Verigenics(TM) division.

Clearflo®, Newflex®, Nylobrade®, Silbrade®, NewAge®, NewAge Industries AdvantaPure®, Verigenics(TM), and "Fluid Transfer Specialists®" are trademarks of NewAge® Industries, Inc.

More from Fluid & Gas Flow Equipment