Three-Chip Camera provides digital output.
Press Release Summary: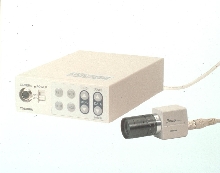 IK-TU51 3 CCD camera provides 10-bit digital signal, eliminating need for frame grabber. It is suitable for machine vision, microscopy and broadcast applications. Camera has digital signal processors, RGB analog output, interchangeable 1/2 or 1/3 in. remote heads, broadcast-level resolution of 800 TVL, 6-vector color-enhancement circuitry, and pulse triggers. HAD CCDs improve camera sensitivity for detection of faint signals and reduce smear.
---
Original Press Release:
Toshiba IK-TU51 is Company's First Three-Chip Remote Head Camera with Digital Output

IRVINE, CA, November 30, 2001 -- The Toshiba Model IK-TUS1 camera brings a new level of imaging performance to machine vision, microscopy, broadcast and other quality- sensitive applications. Highly versatile, this three-chip, 10-bit digital signal processing camera captures images with a brilliance and clarity unmatched by competitive models, plus offers the flexibility of interchangeable 1/2-inch or 1/3-inch remote heads. And because it provides the user with highly reliable digital output, it eliminates the expense and hassle of a frame grabber. The camera also offers standard RGB analog output for the ultimate in versatility.

To assure that the IK-TU51 meets to the highest demands of imaging professionals, the camera features advanced IT Exwave HAD CCD's. Compared to previous CCD designs, Exwave HAD CCD's vastly improve camera sensitivity (2 Lux) for detection of faint signals, while also reducing smear. As a result, the IK-TU-51 delivers broadcast-level resolution of 800 TVL, plus a high S/N ratio of 64 dB. A six vector color enhancement circuit incorporated into the camera's processing system further refines image quality, while its one- or two-pulse triggers greatly simplify digital imaging.

Users will appreciate the camera's vast array of advanced features, including electronic shutter speeds up to 1/ 50,000 of a second for high-speed applications and its industry standard C mount. It also offers versatile white balance, 14-step detail enhancement, freeze frame, auto exposure function, and an RS-232C interface for precise control via a PC.

For all its advanced features the IK-TU51 remains one of the smallest and lightest remote- head cameras in its class, allowing it to be easily installed wherever space is at a premium. Optional accessories for the IK-TU51 package include a selection of 4, 8, 10, 20 and 30 meter camera cables and 4mm, 8mm and 1 5mm camera lens.

Headquartered in Irvine, California, Toshiba Imaging Systems is a division of Toshiba America Information Systems, Inc., and part of the $48 billion Toshiba Corporation, a global leader in high technology products with 304 major consolidated subsidiaries worldwide. Editor Note: Exwave is a trademark of the Sony Corporation.

PHOTO CAPTION (70 words): The Toshiba IK-TU51 3CCD, 10-Bit Digital Signal Processing camera is ideal for machine vision, microscopy, broadcast and other quality- sensitive applications. It provides digital and RGB analog output, plus offers the flexibility of interchangeable 1/2-inch or 1/3-inch remote heads. Significant new features include IT Exwave HAD CCD technology, 800-line resolution, six vector color enhancement circuitry, and one or two-pulse triggers