Three-Channel Wake-Up Receiver has 15-150 kHz frequency range.
Press Release Summary: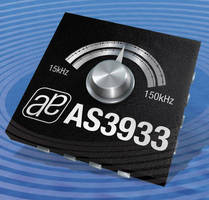 Operating with 3.0 V power supply in -40 to +85ºC temperature range, Model AS3933 has sensitivity of 80 µVrms and current consumption of 2.7 μA. Low-frequency wake-up receiver enables battery-powered systems to add remote wakeup capability. Unit's built-in automatic antenna tuner adjusts antenna to desired carrier frequency. Including digital received signal strength indicator value for each active channel, AS3933 supports programmable data rate and Manchester decoding with clock recovery.
---
Original Press Release:

Austriamicrosystems Announces Best-in-Class 3-Channel Low-Frequency Wake-up Receiver with 15 - 150kHz Range & Automatic Antenna Tuning Capability



- The AS3933 features lowest power and highest sensitivity for low-cost portable applications

Unterpremstaetten, Austria - austriamicrosystems (SIX: AMS), a leading global designer and manufacturer of high-performance analog ICs introduces the AS3933, a 3-channel low-frequency wake-up receiver that enables battery powered systems to add remote wakeup capability. In addition, with best-in-class sensitivity of 80 µVrms, both range and BOM cost can be optimized while the lowest current consumption of 2.7 µA extends battery life.

Featuring a wide receive frequency range - 15 to 150 kHz - the AS3933 offers flexibility to designers for a wide range of applications, including active RFID, high-value asset tracking, real-time location systems, operator identification, wireless sensor networks and access control or remote keyless entry. The AS3933 provides a digital RSSI (received signal strength indicator) value for each active channel, and supports a programmable data rate and Manchester decoding with clock recovery. It also includes an internal clock generator which is derived from either a crystal oscillator or the internal RC oscillator, and is the first such device to provide a built-in automatic antenna tuner that tunes the antenna to the desired carrier frequency. All of these features are commonly requested by designers to lower their BOM, without compromising performance.

The programmable features of the AS3933 allow optimizing settings for longer operating distance while retaining reliable "wake-up" generation. The sensitivity level of the AS3933 can be adjusted in the presence of a strong RF field or in noisy environments. Antenna tuning is greatly simplified, as the automatic tuning feature ensures perfect matching to the desired carrier frequency.

Johnsy Varghese, Marketing Manager Wireless at austriamicrosystems, stated, "With increased sensitivity, wider input frequency range, double the number of correlation bits and automatic antenna tuning capability built in, the AS3933 allows austriamicrosystems to continue to lead the industry for low-frequency wake-up receivers. Despite these advances, the AS3933 still maintains its very low operating current of 2.7 µA and programming flexibility which make it suitable for a wide array of low-power systems."

The AS3933 operates with a 3.0 V power supply and is specified over the -40 to +85ºC temperature range. The device is available in 16-pin TSSOP and 16-pin QFN (4 mm x 4 mm) packages.

Price & Availability

The AS3933 low-frequency wake-up receiver is available now at $2.60 in 1,000-piece quantities at austriamicrosystems' ICdirect webshop.

Technical Support

A demonstration board for the AS3933 is available. Contact austriamicrosystems for price. For further information on the AS3933, please visit www.austriamicrosystems.com/Wake-up-receiver/AS3933

Al Haun

Precision Communications

Ofc: 508-876-9400, Cel: 508-212-2442

More from Packaging Products & Equipment